LAUNCH X431 TSGUN TPMS WAND Tire Pressure Detector Handheld Terminator Sensor Activator Programming Car Diagnosis Tool
LAUNCH X-431 TSGUN TPMS WAND is a portable, affordable and formidable powerful TPMS tools, designed to work with X-431 diagnostic tools to expand new functions and generate new revenues for X-431 users.
Features:
1. 1.77 inch color screen
2. Instantly read tire pressure, tire temperature and battery status
3. Diagnose tire pressure fault, including read DTC, clear DTC, etc.
4. Activate and match all 315MHz or 433MHz sensors
5. Read, copy and write the sensor ID quickly
6. Reprogram LAUNCH sensors with unlimited times
7. Built-in tire pressure learning instruction makes operation more easy
8. Cover 98% global vehicles with tire pressure system
9. Work together with Launch X431 V, V+, Pro3, Pro5, PAD III and PAD V.
Specification:
Display:1.77 inch color screen
Resolution: 168*128 Pixel
Battery:3000 mAh
Input Voltage:DC 5V
Working Current:≤1A
Working Temperature:-10℃~50℃
Storage Temperature:-20℃~60℃
Size:252*54*30 mm
Launch X431 TSGUN, a bluetooth TPMS add-on module, working together with Launch Pro Line diagnostic scanners, with an extensive vehicle coverage of Euro, Asian and Domestic for TPMS function only. The TSGUN is equipped to undertake advanced functionality such as TPMS Sensor Activation- Reading, Diagnosis, Relearns and Programming when changing tire sizes on a vehicle. Featuring a global vehicle TMPS application coverage of 98 % . Ability to perform Resets, Relearns, Diagnosing Issues, Reprogram TPMS Sensors and synchronize with 315/433 MHz sensors. Fast learn step by step tips allow for a easy to use interface. Diagnose TPMS Systems accurately in addition to common tasks such as TPMS System DTC Retrieval and Resetting. Acquire an accurate insight to tire pressure, tire temperature and battery status readings in minutes. Includes all OBD2/EOBD Functionality.
Vehicle Coverage:
Acura, Alfa Romeo, ASTON MARTIN, Audi, Bao Jun, BENTLEY, BMW; BUGATTI; BUICK; CADILLAC; CHERY; CHEVROLET; CHRYSLER; CMC; DODGE; FERRARI; FIAT; FISKER; FORD; FOTON; FREIGHTLINER; GEELY; GENESIS; GMC; GREAT WALL; HONDA'S MOTOBIKE; HUMER; HYUNDAI; HUMMER; HYUNDAI; INFINITI; ISUZU; JAGUAR; JEEP; THAT; LAMBORGHINI; LAND ROVER; LINCOLN; LOTUS CARS; MASERATI; MAXUS; MAYBACH; MAZDA; MCLAREN; MERCEDES; MERCURY; MINI; MITSUBISHI; NISSAN; PLYMOUTH; PONTIAC; PORSCHE; RAM; RENAULT; ROLLS ROYCE; SAAB; SATURN; SCION; SGMW; SMART; SUBARU; SUZUKI; TESLA; TOYOTA; VOLKSWAGEN; VOLVO; VPG.
Function introduction: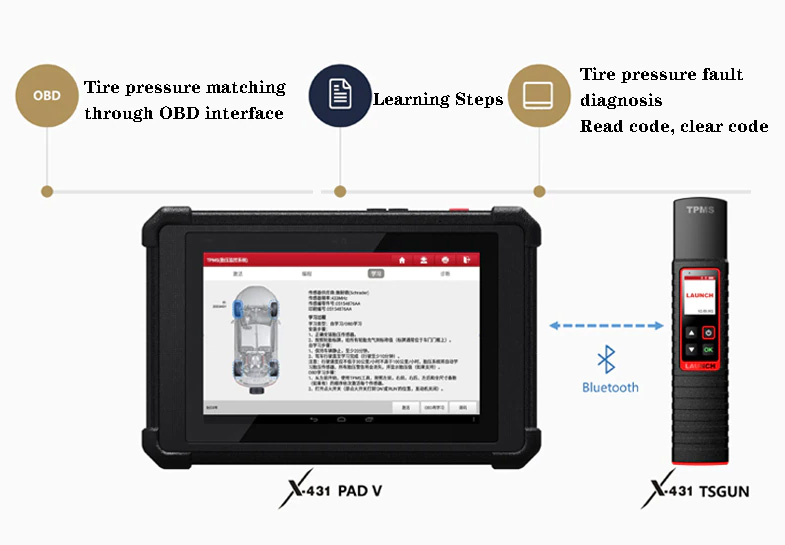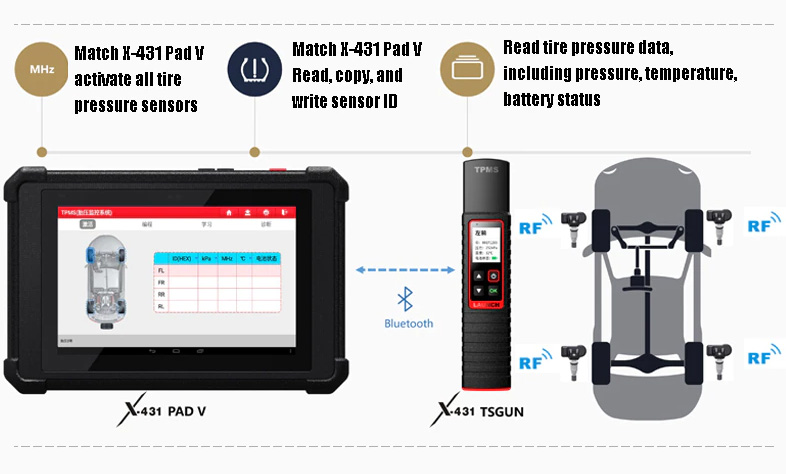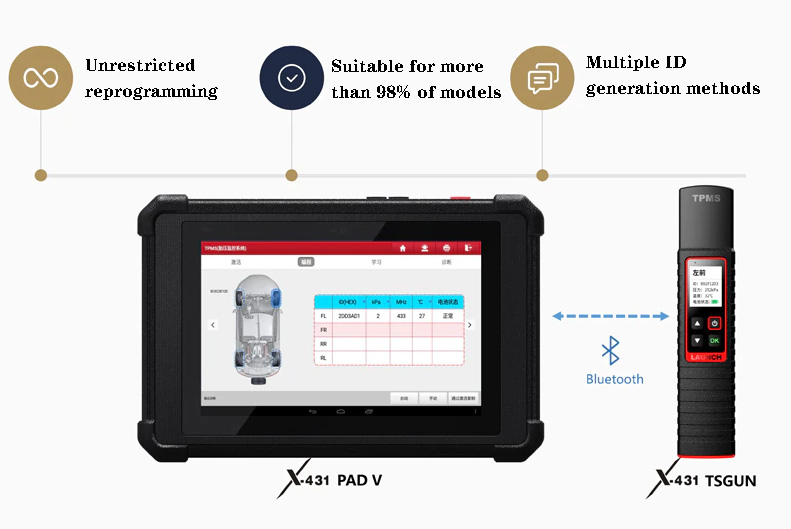 Product details: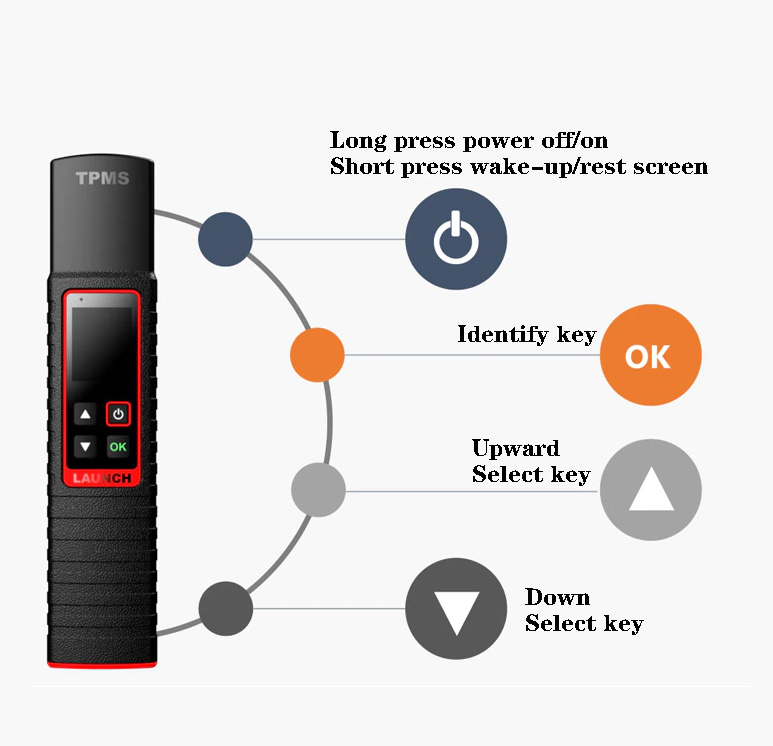 NOTE:
For X431V, there are the following criteria:
1.If your machine is X431 V3.0, or X431 V4.0, then TSGUN can be applied.
2.If your machine serial number starts with 98549, such as: 98549xxxxxxxxx, it can also be applied.
3.Probably the production year of the X431 machine is after 2018-October, which can also be applied. The most important thing is to use the above two as the judgment standard.
How to Bind TSGUN with Launch X431?
For initial use, user needs to bine the X-431 TSGUN to the diagnostic tool.
1. Tap TPMS on the Job menu of the diagnostic tool.
2. Tap Bine X-431 TSGUN to enter.
3. Tap Bind, the following screen will pop up.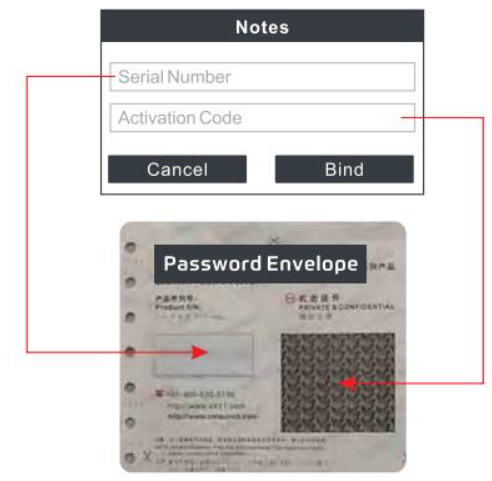 The serial number is a 12-digit number starting with 90002-. You can find it on the back of the tool/from the password envelope.
Activation code is an 8-digit number stored in the password envelope included with the device.
4.Enter the required information. After inputting, tap Bind. It will be displayed in the Bound list automatically.
Package List:
1* X-431 TSGUN WAND
1* USB Cable
1* Box