2023 LAUNCH iCarScan Auto Diagnostic Tool Full Systems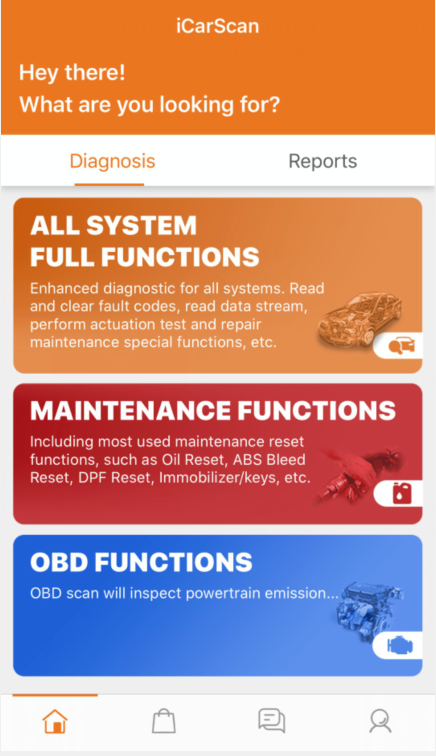 Whats good for iCarScan?

1.Cover Up to 115 major car software and 15 kinds of reset service
2.support car full system diagnostic,including Airbag,SRS,Engine,Gearbox,AT,and more...
3.EOBD2, DEMO and 5 car Software All free
After activating the device, you will get DEMO +EOBD2+ 5 car software. you can select any 5 of the manufacturer software in iCarScan APP and you can use them free for one year.
if u need more ,pls buy software on the application.
Manufacturer Software Price for Each: $39.95/year
Reset Software Price for Each: $49.95/year
4.Bluetooth connect with Phone ,app name is : icarscan
5.Plug icarscan into the OBD port, open icarscan App on the smartphone to do the vehicle diagnosis.

The iCarScan VCI (vehicle communication interface) can turn your Android/ios smartphone into a professional automotive diagnosis tool. Users can communication with automotive's OBDII socket via BlueTooth with an Android smartphone/ tablet, to achieve full systems and full function diagnosis, include reading/ clearing trouble codes, data stream, actuation test, adaptation, ECU coding & programming, oil reset, other special function, etc.

Launch X431 icarscan is an Automotive Diagnostic Device powerful than easydiag. it supports full systems diagnsis for the car ,16 kinds of reset functions, and 115kinds of car software .it including kinds of car software .you can delete car errors codes and reset the system if you have the icarscan.

LAUNCH X431 iCarScan Auto Diagnostic Tool:
1.Multi-Language: English, French, German, Spanish, Italian, Portuguese, Japanese, Russian
2.Build-in bluetooth , easily connects with Android/ios smartphone and tablet
3.Full systems and complete function diagnosis for the most extensive coverage of OE-level diagnostics
4.Widest carline software coverage: Support the generic OBD, CAN bus, and proprietary protocols of over 115 car manufacturers and3, 000 car models;
5.Support multiple special function software and actuation tests
6.Intuitive interface and easy to use

Launch iCarscan functions:
1.All Systems Full Functions Diagnosis, Icarscan will reading car system fault codes, and clear system fault codes.
2.Icarscan will read car VIN one second.it can recognize your car type automotive which helps a lot when u repair a car.
3.Icarscan can communicating with ECU, doing the ECU coding for your car .
4.Support Action test functions. it is a powerful functions, one professional diagnostic tool must have this function!!!
5. Icarscan will Read vehicle's live data, and present by graph. Optional combination of multiple data.
6.Support do a OBD vehicles diagnostic report, and print the vehicles report from pc it help you to understand car's problem.and make you know how to repair car.
7.Support 16kinds of reset functions, including AFS reset, and IMMO reset and so on....

Car Software List:
Cover up to 115 major car software, there are 39 software be ready.
FOR ASTONMARTIN
FOR HONDA
FOR PORSCHE
FOR SUBARU
FOR CITROEN
FOR MAZDA
FOR SGM
FORvW
FOR AUDI
FOR JPISUZU
FOR RENAULT
FOR SUZUKI
FOR DAEWOO
FOR FERRARI
FOR FIAT
FOR GM
FOR BENZ
FOR KIA
FOR ROVER
FOR TOYOTA
FOR MITSUBISHI
FOR NISSAN
FOR OPEL
FOR AUTOSEARCH
FOR BMW
FOR LANDROVER
FOR SAAB
FOR USAFORD
FOR SKODA
FOR SMART
FOR SPRINTER
FOR DEMO
FOR CHRYSLER
FOR MASERATI
FOR SEAT
FOR VOLVO
FOR HYUNDAI
FOR PEUGEOT
FOR SSANGYONG
FOR UPDATING....

15 maintenance functions to meet the maintenance vehicle repair and after-sales maintenance.
1.Oil Reset Service
2.Steering Angle Calibration
3.Electronic Parking Brake Reset
4.Battery Register & Battery Maintenance
5.ABS Bleeding
6.Electronic Throttle Position Reset & Learn
7.Diesel Particulate Filter (DPF) Regeneration
8.Tire Pressure Monitor System Reset
9.Anti-theft Matching
10.Injector matching
11.Air Suspension Reset
12.Gearbox Reset
13.Sunroof RESET
14.AFS Reset
15.EGR Reset
Note : These special function NOT for all car models, if you are confused, Please send your car brand, model and release year to seller to check it for you .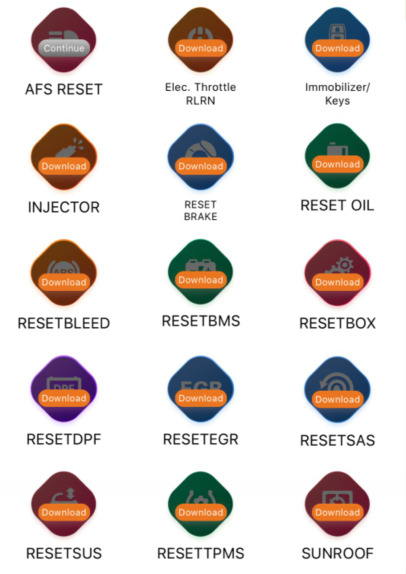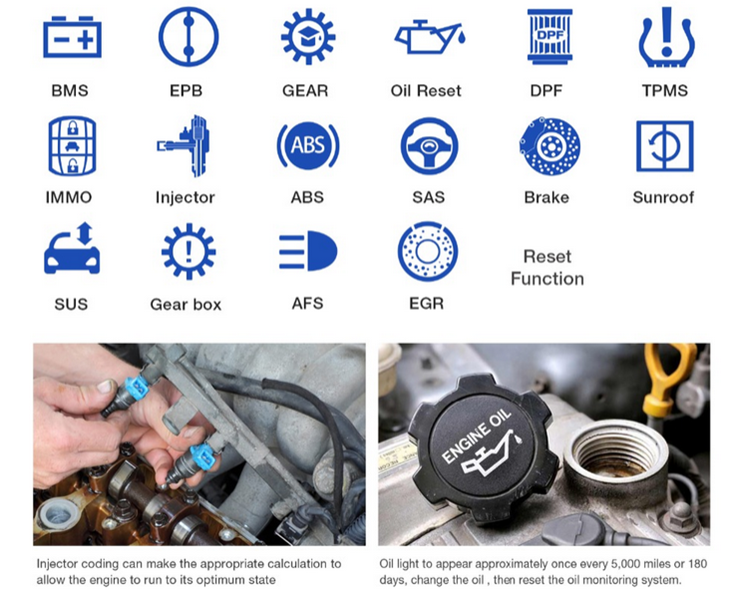 Package List:
1pc x Launch X431 iCarScan Connector with 7 software

Launch ICARSCAN better than X431 idiag Easydiag M-diag
New ICARSCAN Perfect Replacement for LAUNCH X431 idiag , contain all function of obd2 code readers. ICARSCAN work better and run faster than X431 idiag ,easydiag and m-diag. This is a Intuitive interface and easy to use.

ICARSCAN Advantage:
1.ICARSCAN - the fastest diagnosis
2.ICARSCAN - Configure the most diagnostic software,Free to choose 7 software ( Free to download any 5 Car Software & Special Function Software)
3.ICARSCAN - Professional car diagnostic tool,designed for vehicle maintenance technicians, have a more powerful diagnostic function
4.ICARSCAN - Compatible with Andriod and IOS devices
5.ICARSCAN - Widest carline software coverage: Support the generic OBD, CAN bus, and proprietary protocols of over 115 car manufacturers and 3,000 car models
6.ICARSCAN - Support multiple special functions and actuation tests incl.Oil / Service reset, ABS bleeding, IMMO & key programming, throttle body adaptation, brake pads,steering angle reset,battery matching, DPF regeneration and Injector coding
7.ICARSCAN - Professional engineers provide secure technical support.