Product Description
Autel MaxiTPMS ITS600E TPMS Relearn Programming Tool Activate/Relearn All Sensors with 4 Reset Functions
The MaxiTPMS ITS600 is a wireless, touchscreen Android-based tablet that offers complete TPMS diagnostics and service functions. The tablet features a 5.5-inch color display and Bluetooth vehicle communication interface (VCI). Compatible with U.S, Asian and European TPMS-equipped vehicles, the ITS600 features an enhanced TPMS status screen, VINscan for rapid vehicle identification, four MX-Sensor programming options, OBDII relearn functionality and onscreen relearn instructions for all vehicles. The ITS600 can activate, read and relearn all known sensors, perform TPMS system diagnostics and four common maintenance services. Additionally, it provides DOT number scan, tire expiration notice, and access to recall lookup. The ITS600 is compatible with TBE200/TBE100 Tire Tread & Brake Disc Wear Analysis tool, sold separately. By providing an extensive series of tire-related features and functions, ITS600 is your ideal choice to complete TPMS and tire health work.

Support 14 Languages: English, French, German, Spanish, Portuguese, Dutch, Polish, Swedish, Korean, Russian, Italian, Japanese, Hungarian, Czech. (Please leave the S/N of machine to authorize the language you want after you receive it.)

Autel MaxiTPMS ITS600E TPMS Diagnostic Tool with 4 Reset Functions
1.Upgraded of TS508/TS601
2.4 Reset Functions, Oil Reset, BMS, SAS, EPB
3.ITS600 has the same as the TS608, but better in UI design and more details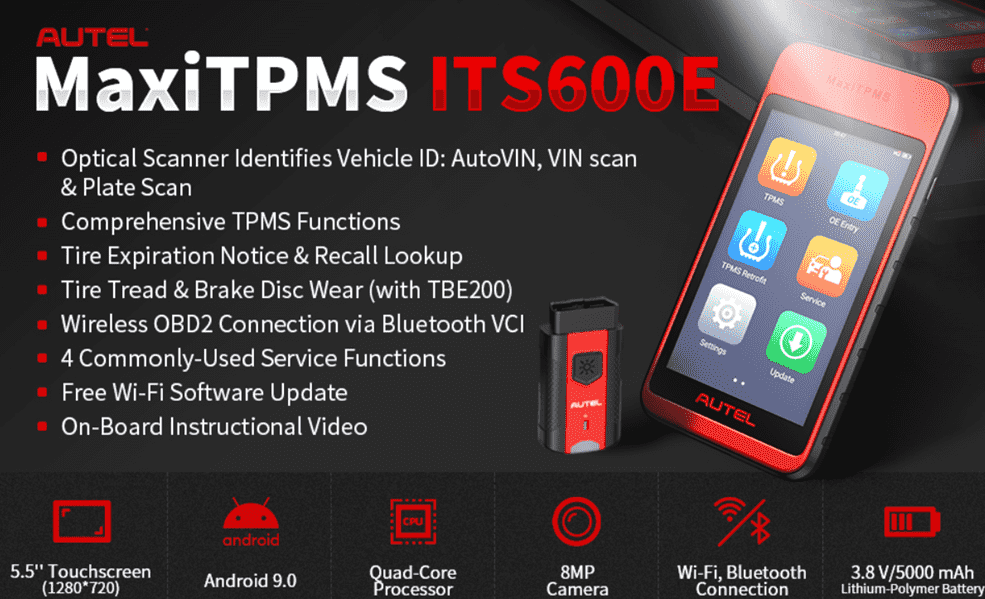 Autel MaxiTPMS ITS600E Upgrade of TS408/TS501/TS508/TS601 TPMS scanners and based on Android OS, the 2021 version ITS600E TPMS tool not only has the essential TPMS sensor programming, sensor relearning, sensor activating functions but also added user-friendly tire functions, quick vehicle identification, TPMS module retrofitting, etc. There is no doubt that Autel ITS600E is your reliable helper and professional doctor.
When it comes to TPMS functions, ITS600E has the same as the TS608, but better in UI design and more details (like tire functions, vehicle scanning, reset functions).Reasons for Choosing Autel ITS600E as Your Partner: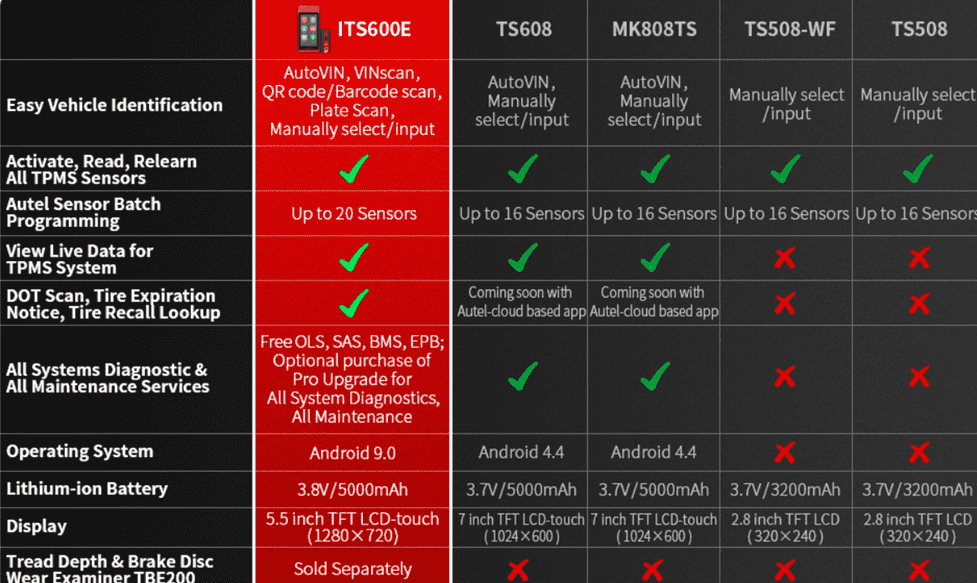 Description
EVERYTHING TPMS SOLUTIONS
• Activates, reads and relearns all known sensors
• Enhanced, at-a-glance diagnostics status screen
• Fast OBDII relearn for most vehicles
• Program MX-Sensors to replace 99% of OE sensors
• Copy By OBD sensor programming for faster service
• Four MX-Sensor program modes; batch program up to 20 MX-Sensors
• Includes wireless Bluetooth vehicle communication interface (VCI)
• Tire pressure placard value reset
• Read/Clear TPMS system codes & view live data
• Free Wi-Fi software updates for the life of the tool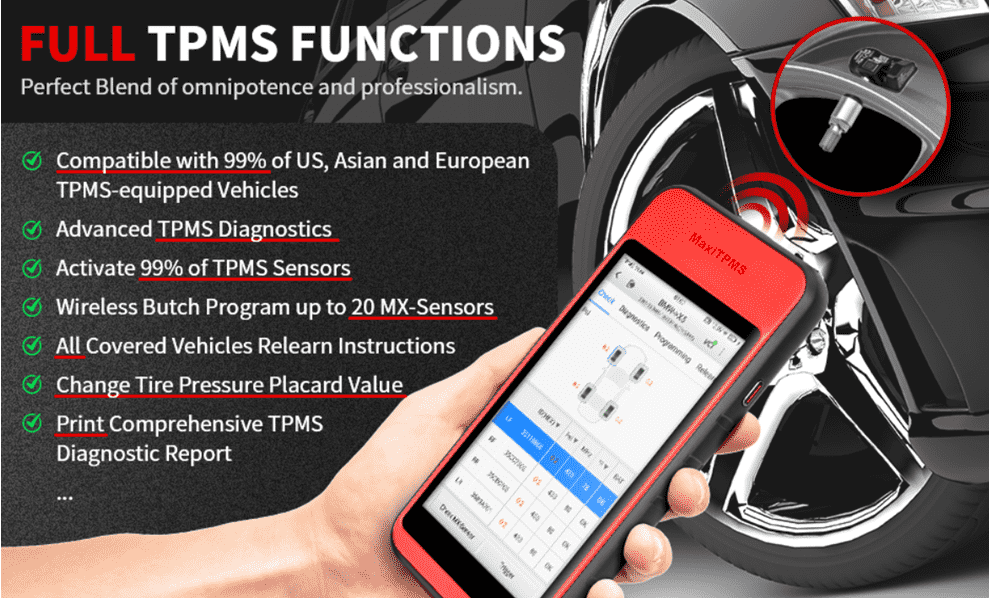 QUICK VEHICLE ID TECHNOLOGY
• Rapid VIN acquisition via optical VINScan
• QR Code Scan / Barcode Scan, Plate scan, Auto VIN detect and manual input
• Identify MMY and sensor OE part number via VIN decoding

DIAGNOSTICS & SERVICE
• Oil light reset
• Electronic brake service
• Battery registration
• Steering angle reset
• Included service function updates are free for the life of the tool
• All systems diagnostics and maintenance services software available with Pro Upgrade purchase

EXPANDED TIRE SERVICE
DOT
• Quick & Easy Tire DOT Number Scan
• Tire Expiration Notice
• Tire Recall Lookup
Tread Depth & Brake Disc Wear
• Precise laser measurement of tread depth & brake disc wear with purchase of Autel TBE100/TBE200
• Comprehensive Test Report: TPMS health' Tread depth & brake disc wear characteristics & Repair tips

Autel MaxiTPMS ITS600E Features:
1. 4 Ways to Program 315/433mHz MX-Sensors: Copy by Activation, Copy by OBD, Copy by Input and Auto Create 1-16 Sensors
2. Support batch program 20 MX-Sensors maximum one time, Activate all known TPMS sensors on the market, TPMS Retrofit
3. 3 Ways to Relearn OEM Sensors: Stationary Relearn, Automatic Relearn, OBD Relearn [Fast OBDII relearn works for most vehicles]
4. TPMS Diagnosis: read/ clear codes, turn off TPMS warning light, Read/ write sensor ID, tire pressure reference value setting
5. Support OE Level TPMS services on Benz, BMW, Nissan, Hyundai, Ford
6. Support 4 reset functions: Oil reset, EPB reset, BMS reset, SAS reset
7. Support TPMS Toolkit: key fob signal check, unlock the specified REDi-sensor, sleep/parking mode switching
8. Support extra purchase to update to ITS600 Pro with All systems diagnosis and 25+ services
9. Support comprehensive TPMS and tire diagnosis report with TEB100/200
10. Quick VIN Identification Technology, TPMS by OEM Part No., Life-time Free Update

4 Effective Ways to Program TPMS Sensors
Autel TPMS programming tool ITS600E allows users to program the sensor data to the MX-Sensor to replace existing sensors with low battery life and ones that are no longer functioning. This device offers 4 programming methods when programming MX-Sensor: Copy by Activation, Copy by OBD, Copy by Input and Auto Create.

Copy by OBD: By this method, TPMS Tool ITS600E will program the sensor IDs retrieved from the ECU of the test vehicle to the new MX-Sensors. After the sensor ID is retrieved by performing diagnostics function. Select a wheel location on the display and place a MX-Sensor in front of the ITS600E. Tap Copy by OBD to program the new MX-Sensor. The Copy by OBD programming method, if available, is recommended to program new MX-Sensors as there is no need to relearn the sensors again.
Copy by Activation: If you have an old sensor on the vehicle and it needs to be replaced, you can use the ITS600E to trigger the sensor and its information will be displayed on the screen, you can apply Copy by Activation to program the new MX-Sensor, and no relearn is need since the new sensors is to replace to old sensor.
Copy by Manual Input: Input the original sensor ID when sensor is broken but you have the sensor ID info, you can manually input the sensor ID and program it to new MX-Sensor.
Auto Create 1-16 Sensors: Auto create new unique ID(s) into 1-16 MX-Sensor(s) when the original sensor is totally dead or the sensor ID is unknown.

NOTE: Please program the MX-Sensors before installing the sensors into tires. ITS600E can only program Autel brand MX-Sensors.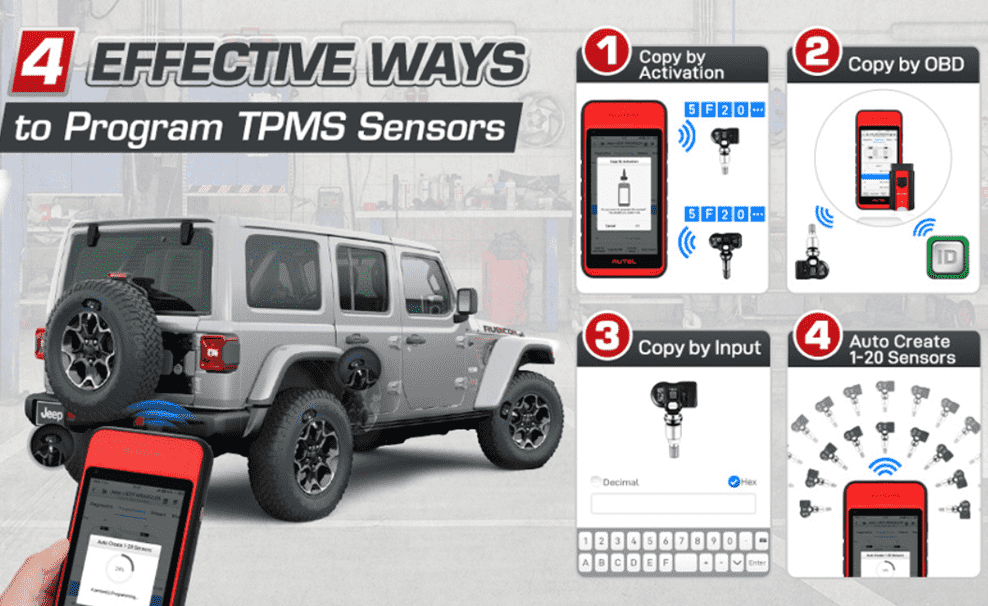 3 Ways to Relearn TPMS Sensors
As an expert in TPMS, Autel TPMS Relearn Tool ITS600E knows your demands better than any others. TPMS relearn is used to transfer new sensor IDs into the vehicle ECU for sensor recognition. Step-by-step relearn instructions are provided for all supported vehicles. Relearn is needed when the new sensor IDs are different from the original sensor IDs stored within TPMS ECU. 3 major methods are available for relearn process. According to the actual situation, perform the most suitable TPMS relearn method.

OBD Relearn: write the TPMS sensor IDs to the TPMS module directly when connected to the car via the V200 wireless interface.
Automatic Relearn: For some vehicles, the Relearn function can be completed by driving, just follow the on-screen relearn procedure for the exact details of the process, no extra operation you can get the new sensor learned.
Stationary Relearn: Stationary Relearn requires the vehicle be placed in the "Relearn Mode", follow the Relearn Procedure to perform Stationary Relearn.

TPMS Retrofit
Updated from Autel MK808TS MP808TS, Autel TPMS Programming Tool ITS600E allows you to build a TPMS from scratch. Retrofit the TPMS modules into the ECU and connect the new sensor information to display the real-time TPMS data (tire pressure, temperature, sensor) on the dashboard. With the 4pcs of Autel MX-sensors in the kit, you can do TPMS Retrofit in one time!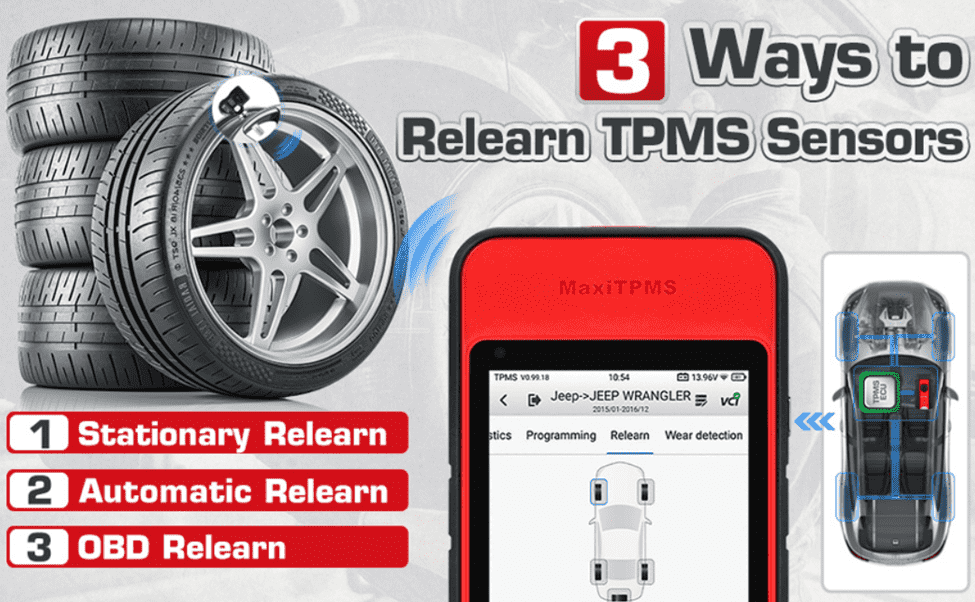 4 Reset Services
Autel precedent models such as TS508/TS601 are only TPMS specialized, while 2022 newest TPMS relearn tool ITS600E is more than that. ITS600E TPMS scanner integrates the most useful 4 reset functions: Oil reset, EPB reset, BMS reset, and SAS Calibration to fulfill your daliy demands and save you from going to the dealer. Everyone could be a master with your car with the TPMS service scan tool ITS600E.
Oil Reset: Perform reset for the Engine Oil Life system each time the oil is changed, so the system can calculate when the next oil change is required.
EPB Service: Deactivating and activating the brake control system, assisting with brake fluid control, opening and closing brake pads, and setting brakes after disc or pad replacement.
BMS Service: Evaluate the battery charge state, monitor the close-circuit current, register the battery replacement, activate the rest state of the vehicle, and charge the battery via the diagnostic socket.
SAS Calibration: Calibrate the Steering Angle Sensor after Steering wheel replacement, Steering angle sensor replacement, or any maintenance that involves steering angle sensor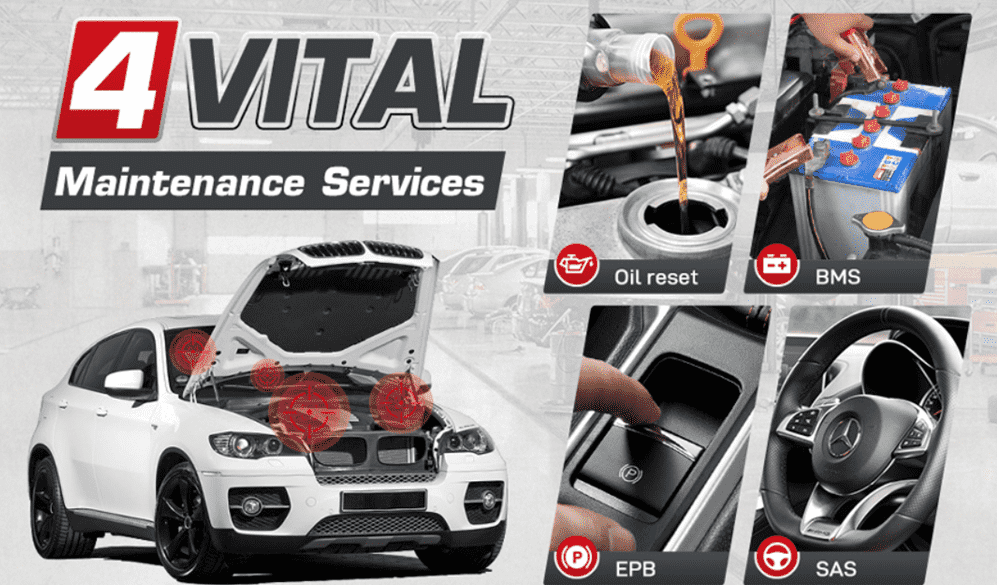 Quick Vehicle Identification
Autel TPMS ITS600E also features 4 different methods for most quickly and efficient vehicle information identification and save the users numerous time, you can choose the most suitable way among Auto VIN Detect, Scan License, Scan VIN, and Manual Input.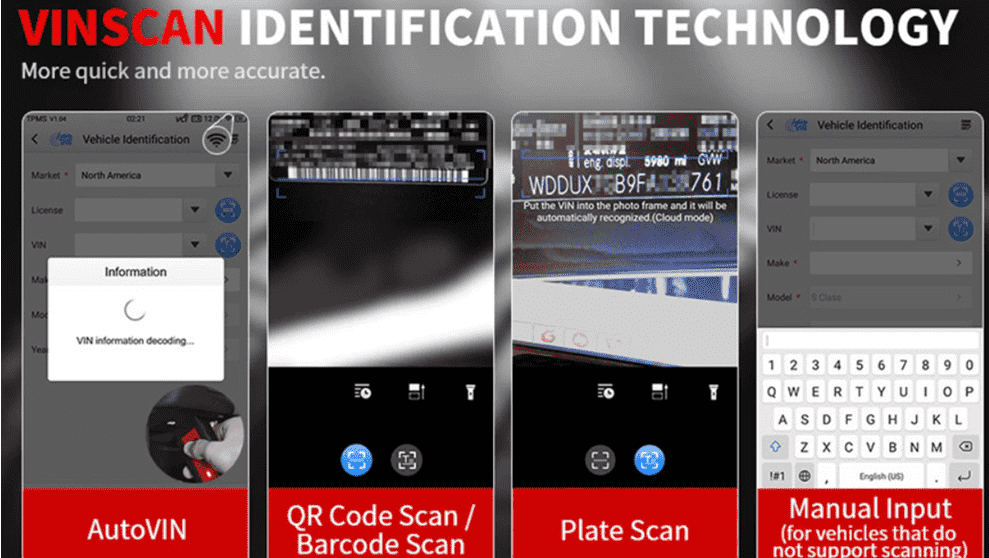 Expanded Tire Service
Working with Autel TBE200E maxitpms tire tread and brake disc wear examiner for detailed tire information and complete test report.
Real-time Tire Health Analysis: Real-time tire measurement data in curve, Uneven wear analysis, Test detail for single tire tread/ brake disc, Detailed replacement & maintenance suggestions (tire/brake disc replacement, tire rotation/alignment servicing), Scan DOT for tire expiration notice and recall lookup.
Comprehensive Test Report: TPMS health, Tread depth & brake disc wear characteristics & Repair tips.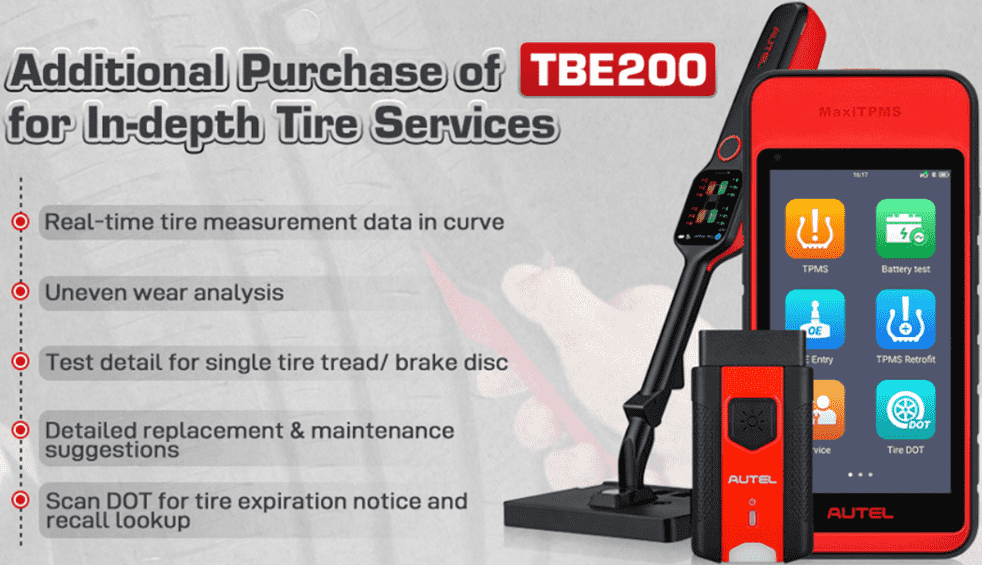 Extendable All Systems Diagnosis and 24+ Services Functions (coming soon)
Autel MaxiTPMS ITS600E enjoys life time free updates for its default functions, that is complete TPMS functions and 4 services Oil reset, EPB reset, BMS rest, and SAS Calibration.Autel TPMS Scan Tool ITS600E offers the extendable software purchase for more powerful and complicated functions: you can purchase the All Systems Diagnosis and 24+ Services via in-app purchase to get it become ITS600E Pro. (will released in April.2022)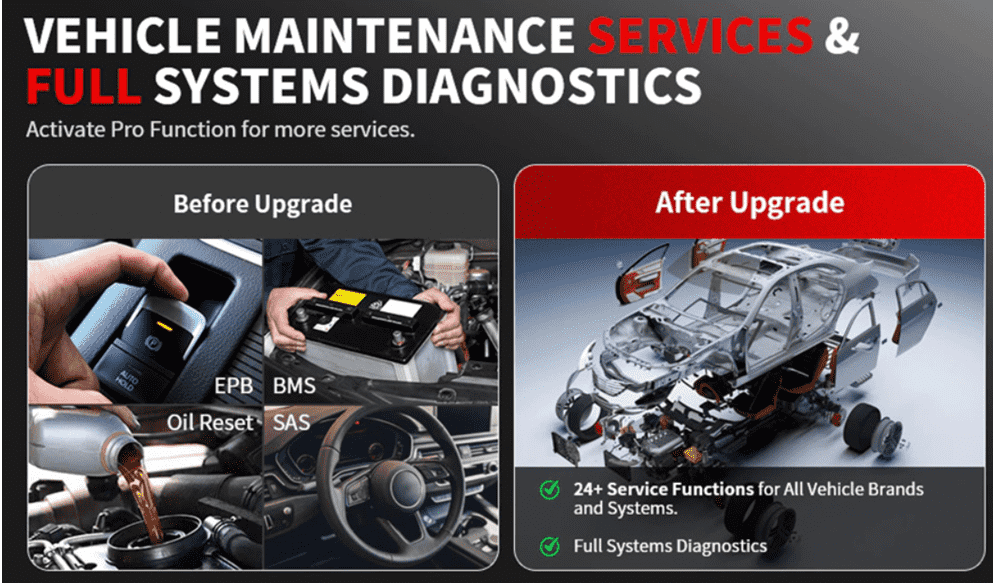 Autel MaxiTPMS ITS600E Specifications:
Recommended Use:Indoor
Operating System:Android™ 9.0
Processor:Quad-core processor (1.5 GHz)
Memory:1GB RAM DDR4 & 64GB ROM
Display:5.5-inch LCD capacitive touchscreen with 1280x720 resolution
Connectivity:• Wi-Fi• USB 2.0, Type C• BT
Sensors:Light sensor for brightness auto adjust
Audio input/output:Input: N/AOutput: Beep
Power and Battery:• 3.8 V/5000 mAh lithium-polymer battery• Charges via 5 V AC/DC power supply
Battery Charging Input:5 V/2 A
Power Consumption:600 mA (LCD on with default brightness, Wi-Fi on) @3.8V
Operating Temp. -10 to 45°C(14 to 113°F)
Storage Temp. -20 to 60°C (-4 to 140°F)
Dimensions (W x H x D):183.0 mm (7.2'') x 89.0 mm (3.5'') x 22.0 mm (0.87'')
Net Weight:368 g (0.8 lb.)
Protocols:ISO9141-2, ISO14230-2,ISO15765, K/L-Line, Flashing Code,
SAE-J1850 VPW, SAE-J1850PWM, ISO11898 (Highspeed, Middlespeed,
Lowspeed and Singlewire CAN, fault-tolerant CAN), SAE J2610,
GM UART,UART Echo Byte Protocol, Honda Diag-H Protocol, TP2.0, TP1.66

Packing List:
Main Unit
MaxiVCI V200
Power Adapter
Type C USB Cable
Hex Key
Quick Reference Guide
List
Carrying Case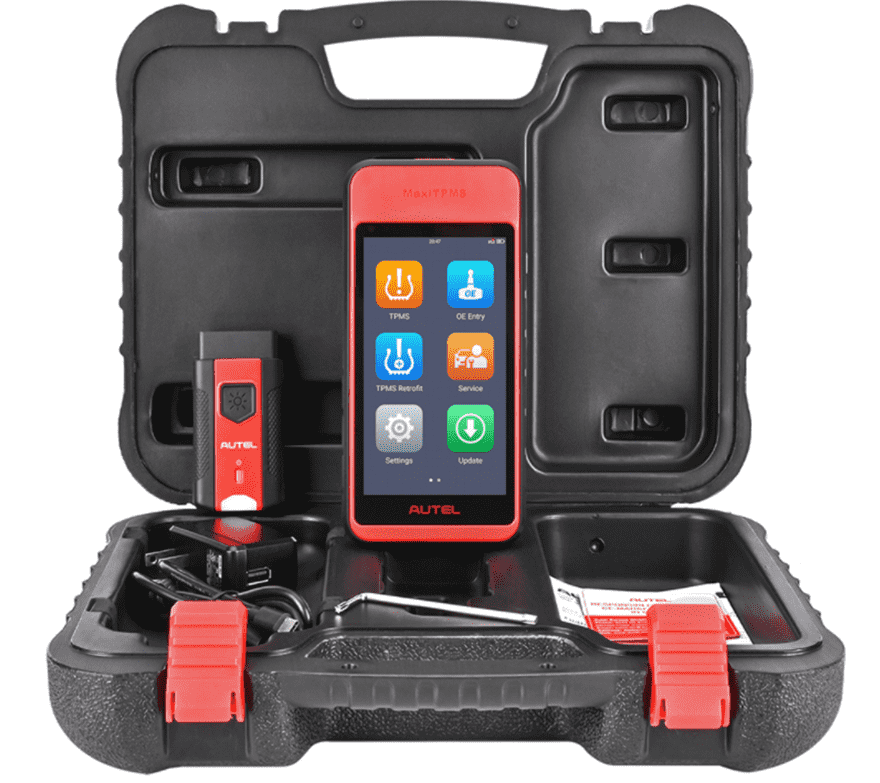 Please feel free to contact us ,If you have any question:
Email:
Sales@obd2.ltd
Whatspp: +8613632856735

Shipping Terms:
a) Items will be sent to all the countries over the world.This package will be sent by Hongkong Airmail Post,EMS,UPS or DHL.
b) Items will be checked carefully before sent out.
c) We will use air bubbles to wrap the items carefully.

Shipping Time:
a) one business days for order processing after received the payment.
b) The shipping time is about 2 to 5 days via UPS DHL and EMS,15-30days via HK POST AIR to Worldwide
Note: We hope it arrive on time but since this is an international delivery, shipping time will be highly depended on the courier company and local customs/duties. Thank you for your understanding.
Return Policies:
If you are not satisfied with your purchase .please contact us quickly, we can exchange one to you,but buyers is responsible for the returning shiping cost .
If you have any item proplem, just email us quickly, we will do our best to slove it in 24 hours, please don't leave bad feedback before contacting us, it is not the best way to slove proplem. thank you!
If you want more items we can give you a little discout,thank you!
Contact Us:
Our office hours are 24hours 7 days online service
And if nobody answer you online in time sometimes,do not worry.leave us a message or write down your desires,we will contact you as soon as possible.
Attention: PLZ leave your telephone number and address in detail when you take order in our website, it is very important to ship your order. (Customers from Brazil PLZ leave your Cutsom ID also, thanks!)