Product Description
KT200 ECU Programmer ChipTuning Kit KT200 ECU/TCU programmer
Software version of KT200: V2022.10.01 Software download link

KT200 has 2 versions:
1.Auto version (Basic version): Car OBD, Truck OBD, Full System, BDM/JTAG, TOOL BOOT, Bench Mode, TCU Gear
2.Full configuration Version: Car OBD, Truck OBD, Full System, BDM/JTAG, TOOL BOOT, Bench Mode, TCU Gear, Tractor OBD, Boat OBD, Motorbike OBD

Multi-language: Italian, English, Dutch, French, Spanish, Polish, Portuguese, Czech, Romanian, Turkish
KT200 Highlights:
1. ECU maintenance, chip tuning DTC code removal of professional reading and writing equipment covering 99% of the models on the market.
2. TCU encoding and cloning functions.
3. Support OBD/BENCH/BOOT/BDM/JTAG.
4. Read and write Bosch MD1 and MG1 ECUS in Bench Modes.
5. Bosch EDC17, MED17/ME17, and SIEMENS Pcr2.1(with Pinout also unlocking possibility) read and write in Bench Mode
6. Vehicle list is constantly updated stays ahead of the industry.
7. The KT200 software allows you to forcibly write (forcible clone) without checksumming and supports forcibly reading and writing unknown ECUs with supported chip models.
8. Covering a full range of German, ECU Programmer, Japanese, American and Chinese models.
9. Support VW, Audi clone. (local operation without sending data to manufacturers).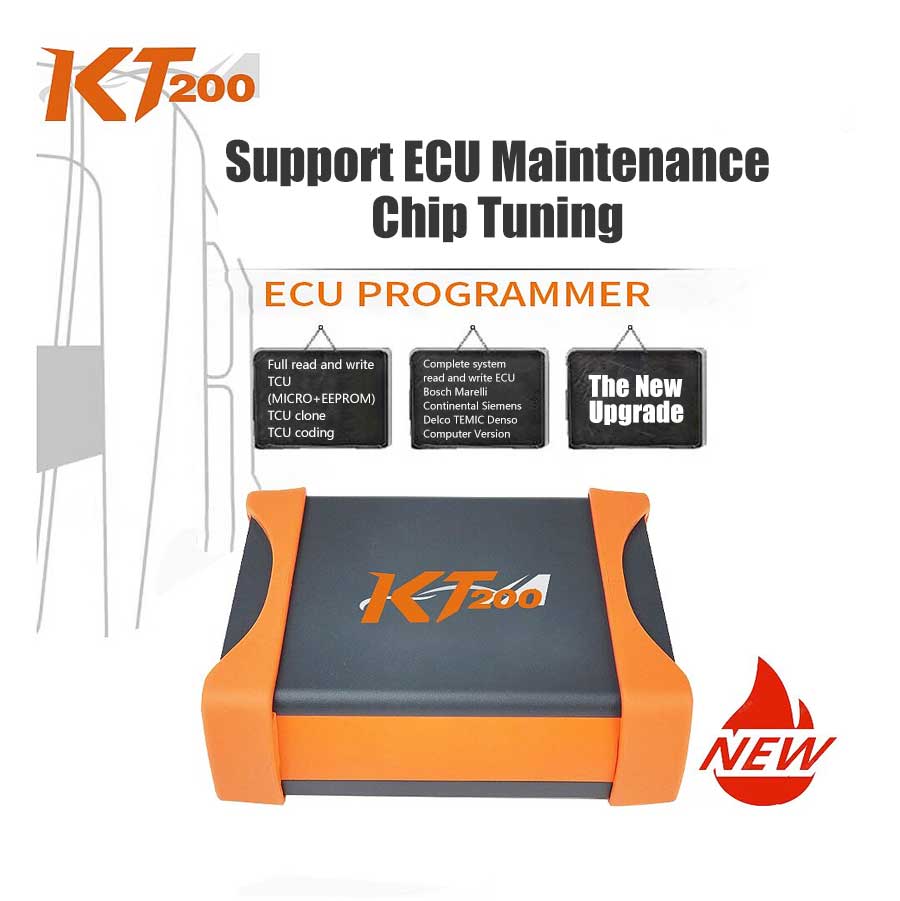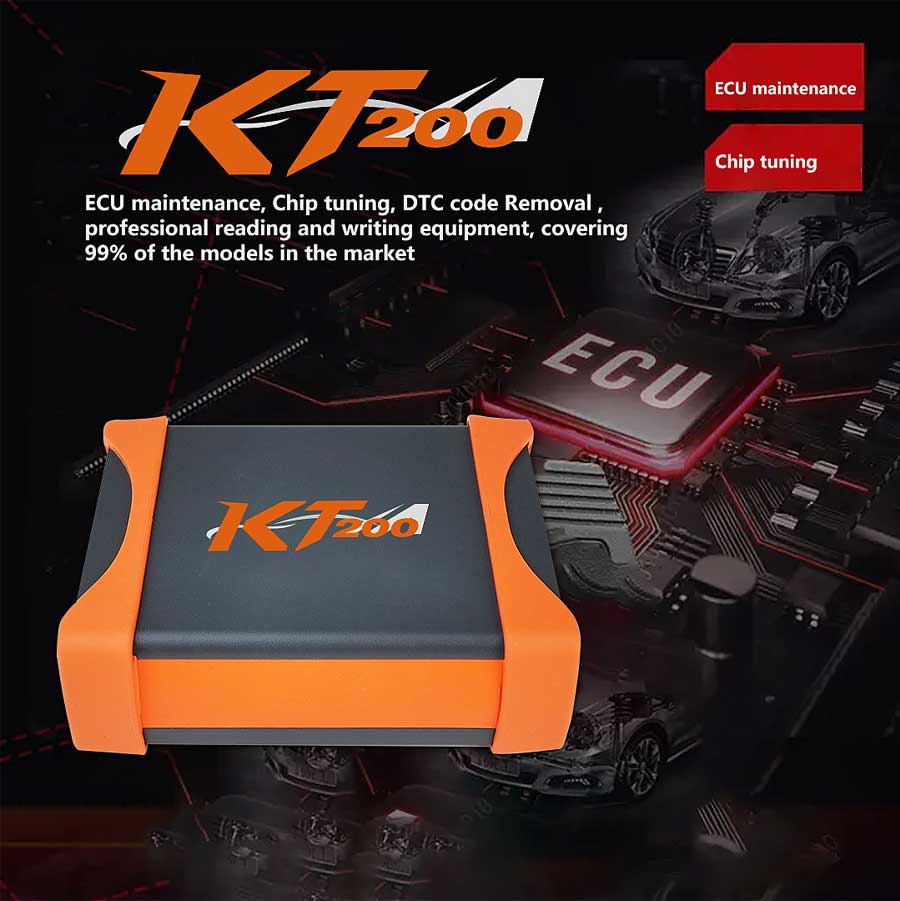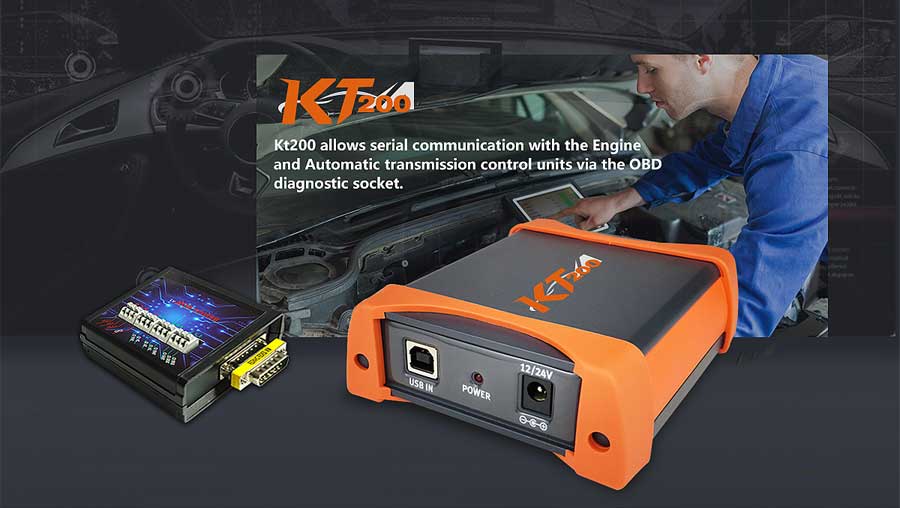 KT200 ECU Programmer, you can:
1. Read and write ECU data
2. ECU/TCU clone
3. ECU maintenance engineering
4. Chip Tuning
5. OBD2 reading
6. Read ECU maps
7. Checksum correction
8. Read and write Virtual data
9. Supports online update
Notion: The KT200 ECU Programmer requires an Internet connection.
We provide the following items: DTC code Removal EGR & DPF Removal, IMMO OFF, releasing speed limit, mileage correction, Hot start or Cold Start Vmax, and so on.
What Are the Newly Added Protocols to the Chip TuningKit KT200 Programmer Device?
MD1CE101 WITH OBD! You can use New Holland, Case, Stery, and Tractors for chip tuning, EGR, DPF, and AdBlue operations.
Read and write JCB DELPHI DCM3.3 / DCM3.3 + tractors via OBD.
With MD1CE101 OBD, you can read and write FPT Industrial Engines via OBD.
FORD ECU SIEMENS EMS2204, EMS2214, EMS2511 Reading and writing via new OBD.
The following models can be read and programmed:
1.CAR
2.TRUCK MOTORBIKE
3.TRACTOR
4.BOAT
5.Additional TCU package available for Automatic Transmissions.
The cover-free method can read and write the following protocols through PIN OUT:
BOSCH EDC7
BOSCH EDC16
BOSCH ME9/MED9
BOSCH MD1
BOSCH MG1
-FREESCALESPC5777
-AURIXTC29x
-STSPC58
BOSCH EDC17
BOSCH MED17/ME17
SIEMEN SPCR2.1
(Unlocking also possible via pinout)
System-wide via PIN OUT (MICRO/FLASH+EEPROM) the following ECUs:
BOSCH
CONTINENTAL
DELCO
DENSO
MARELLI
SIEMENS
TEMIC
TEMIC
BDM EJTAGMODESFOR:
BDM MPC55x
BDM MPC56x
BDM MC32/ZC32
BDM HC12/S12x
JTAG NEXUS MPC/SPC56xx
JTAG NEXUS MPC55xx
JTAG RENESAS:
SH7055
SH7058
SH7059
SH7251
SH72543
SH72544
JTAG NEC76F00xx
76F0038AGD
76F0038GD
76F0039AGD
76F0039GD
76F0040GD
76F0070
76F0070
76F0085
BOOT MODES:
-BOOT MODEC16729Fxxx
-BOOT MODE ST K-LINE/RX-TX/CAN
ST10F168
ST10F269
ST10F273
ST10F275
ST10F276
ST10F276
ST10F280
ST10F296
-BOOT MODE Tricore for micro
TC1724
TC1728
TC1738
TC1738
TC1762
TC1766
TC1767
TC1782
TC1791
TC1792
TC1793
TC1793
TC1796
TC1797
-BOOT MODE Renesas
SH7052
SH7054
SH7055
SH7055
SH7058
SH7059
SH7251
SH72543
SH72544
-BOOT MODE Mitsubishi
MH7202
MH7203
MH8102F
MH8105F
MH8106F
MH8202
MH8206F
MH8301F
MH8301F
MH8304F
MH8405F
-BOOT BAM SYSTEM MOTOROLA
SPC5674
SPC5777
-BOOT MODE Fujitsu
-BOOT MODE Hitachi
ADDITIONALPACKAGEFORAUTOMATICTRANSMISSION
FULLREADANDWRITETCU(MICRO+EEPROM)
TCU CLONING
TCU CODING FUNCTIONS
KT200 Package List:
1 host
1 BENCH BOX
OBD harness 2 pcs
1 pinout line
4 BOM adapters
3 transfer cables
4 wires
1 set of resistors
4 sets of adapter plugs
5 sets of power adapters
KT200 ECU Programmer Compare with PCMTuner
Please feel free to contact us ,If you have any question:
Email:
Sales@obd2.ltd
Whatspp: +8613632856735

Shipping Terms:
a) Items will be sent to all the countries over the world. This package will be sent by DHL, Fedex, EMS, UPS, USPS, Singapore Post or E-Packet .
b) Items will be checked carefully before sent out.
c) We will use air bubbles to wrap the items carefully.

Shipping Time:
a) Ships within 48 hours on working days after received the payment.
b) The shipping time is about 5-7 days via DHL, UPS, 5-10 days Via Fedex, 7-10 days via EMS, 7-30 days via USPS, Singapore Post or E-Packet to Worldwide
Note: We hope it arrive on time but since this is an international delivery, shipping time will be highly depended on the courier company and local customs/duties. Thank you for your understanding.
Return Policies:
Returns will be allowed only with prior authorization, and must be made within 30 days after package delivery.
Item conditions that allow returns Brand new Item, returns must include all accessories, Items must include original packaging
Other cases are as follows:
(1) When the item is defective, the item was sent in error, damaged in transit, or otherwise defective,It can not work once you receive it. In this case we allow returns. We bear the shipping cost.
(2) When you buy the wrong item, the item doesn't fit, or you don't want the item, the item you return need to be brand new. you need bear shipping costs.

Contact Us:
Our Email sales@obd2.ltd 24 hours 7 days
And if nobody answer you online in time sometimes,do not worry.leave us a message or write down your desires,we will contact you as soon as possible.
Attention: PLZ leave your telephone number and address in detail when you take order in our website, it is very important to ship your order. (Customers from Brazil PLZ leave your Cutsom ID also, thanks!)