Launch X431 SmartLink C 2.0 Heavy-duty Truck Module New HD3 Diagnostic Truck/Machinery/Commercial Vehicles work on X431 PRO5/ V+/PRO3S
Launch X-431 SmartLink C 2.0 is a heavy-duty vehicle diagnostic module developed by Launch Company based on Linux system, dual processor Cortex-A7+Cortex-M7, 8G storage, 256M storage, 320*480 resolution. It supports Bluetooth, Wi-Fi, USB and other communication methods, and can be used with X-431 PRO3S and PRO5 series.
It also support full system fault diagnosis, with functions such as code reading, code clearing, data stream reading, special functions, and action test. Covering Cummins, Bosch, Weichai, Shangchai, Yuchai, Xichai, Chaochai, Yangchai, Quanchai and other engine diagnostic software, it supports trucks, buses, construction machinery, agricultural machinery, trailers, ships and other types of vehicle software.
Launch X-431 SmartLink C 2.0 Heavy-duty Truck Module Features:
The heavy-duty truck module is used to expand the configuration of passenger cars equipped with DBScar lower computer to the integrated configuration of passenger and business, and it is mainly supporting commercial vehicles.
1.Compared with X-431 HDIII, the SmartLink C 2.0 is more powerful in function.
2.The transmission speed is faster and more stable.
3.The visual operation interface makes it more convenient.
4. It supports commercial vehicles, passenger vehicles, new energy and other models.
5.It supports super remote diagnosis.
6.1-year free update. (After One Year, Please Contact with us to pay Subscription Cost)
The SmartLink C system consists of the following two parts:
1.SmartLink Service Platform -- For binding the SmartLink C dongles and posting the remote repair orders (*Note: Orders can be submitted only after the SmartLink C dongle is successfully bound)
2.SmartLink C Dongle -- Connects with vehicle's Data Link Connector (DLC) to obtain vehicle information before submitting repair orders.
The working principle of the SmartLink C dongle is as follows: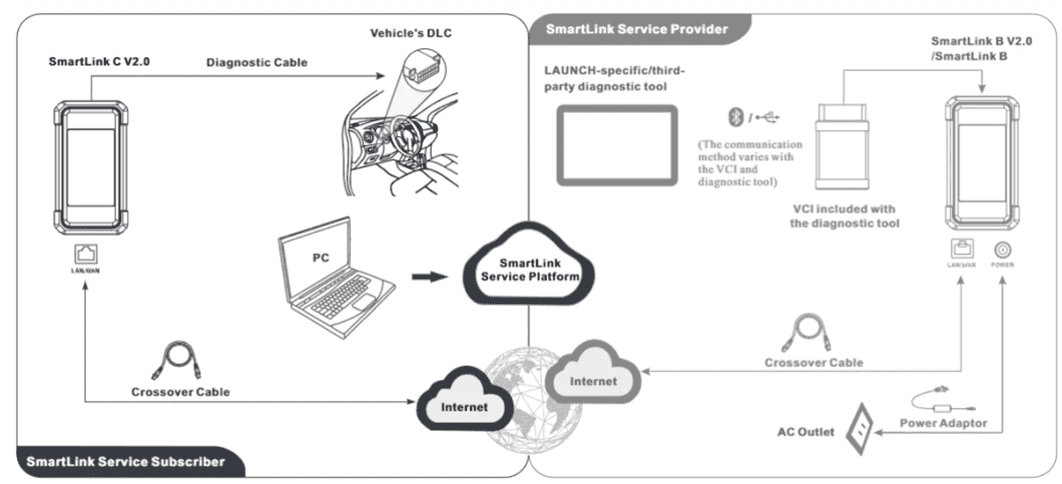 Launch X-431 SmartLink C 2.0 Heavy-duty Truck Module Application: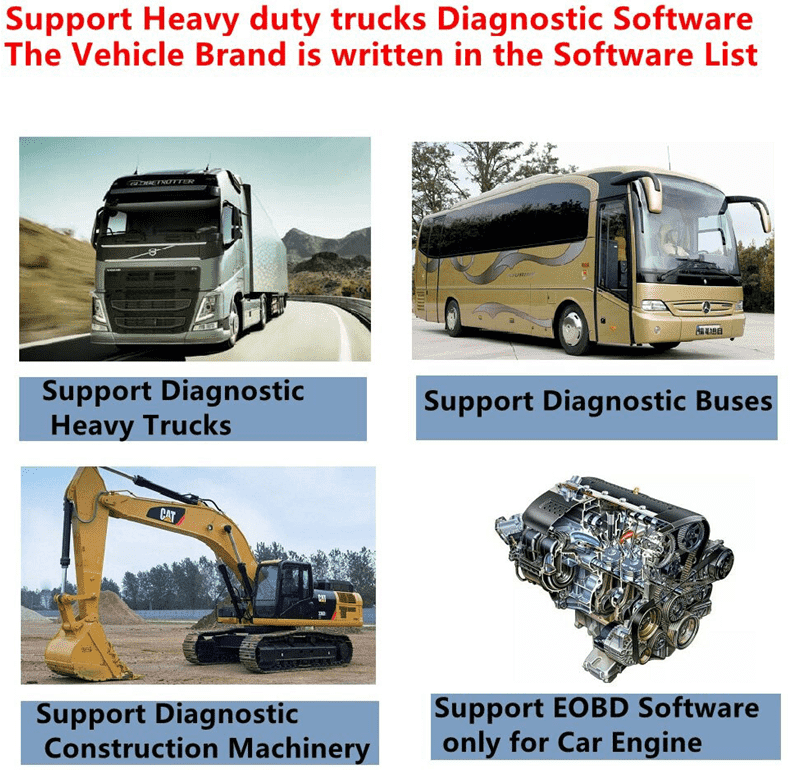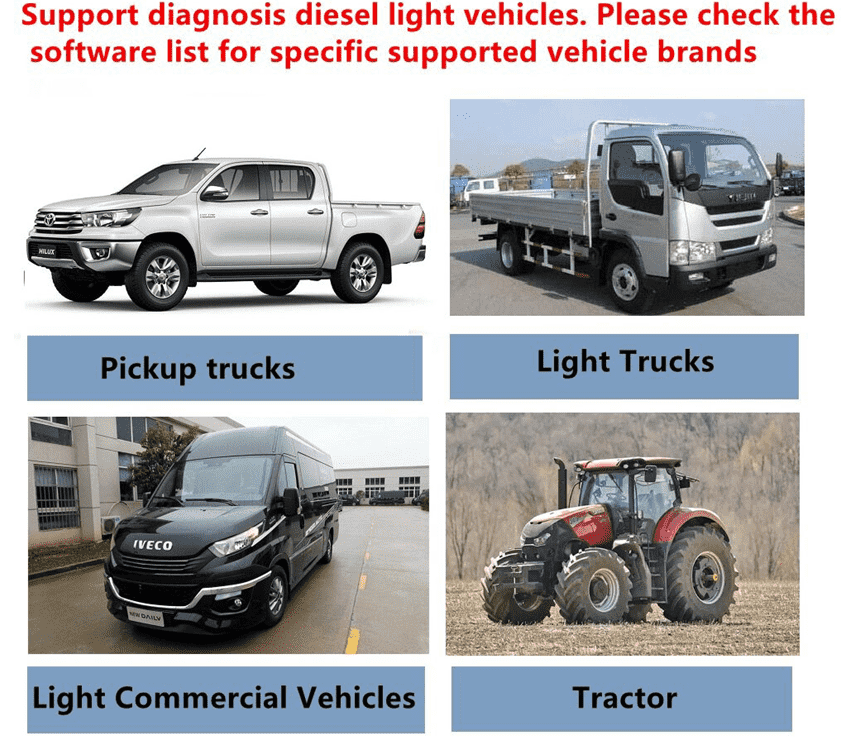 Launch X-431 SmartLink C 2.0 Heavy-duty Truck Module 88 supported software list: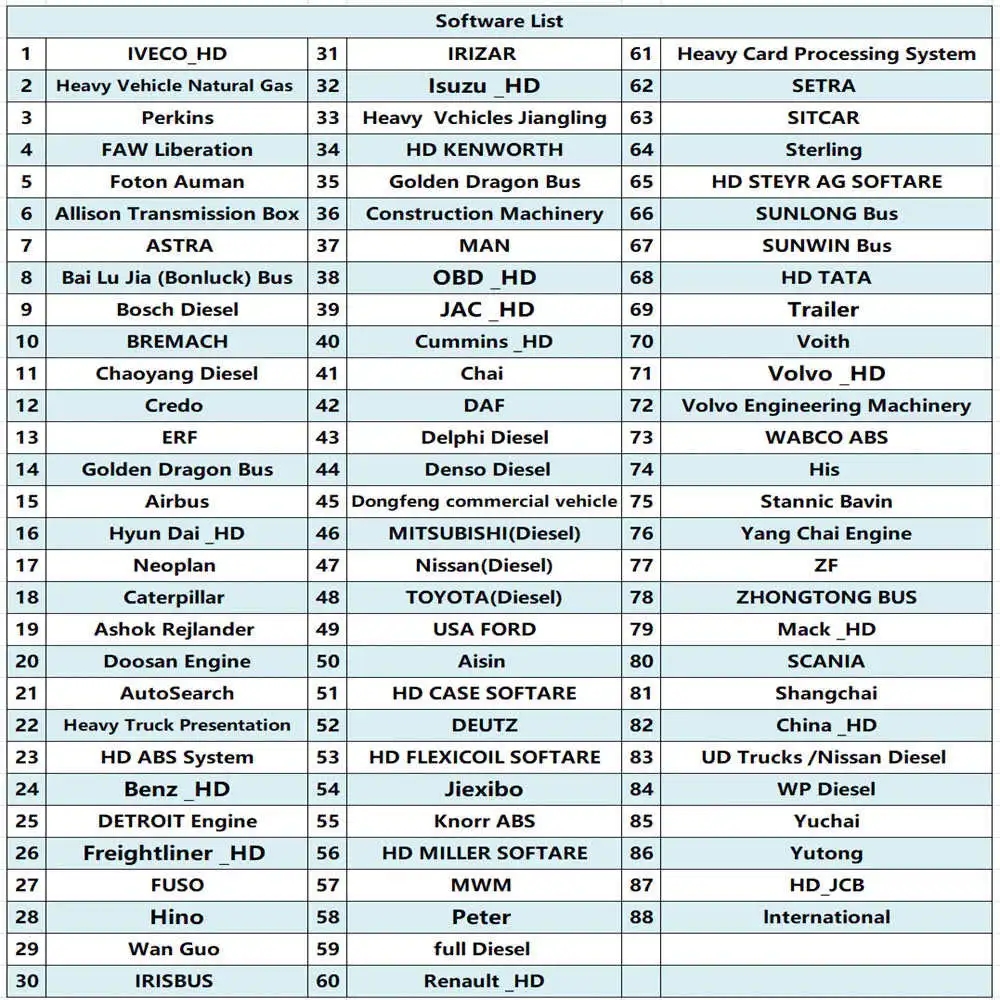 Launch X-431 SmartLink C 2.0 Heavy-duty Truck Module Specifications:
| | |
| --- | --- |
| CPU | dual processor: Cortex-A7+Cortex-M7 |
| operating system | Linux |
| resolution | 320x480 |
| power | < 6w |
| storage | 8GB |
| memory | 256M |
| working temperature | 0℃~50℃ |
| working voltage | 9V DC—36V DC |
| dimensions | 200mm×110mm×47mm |
| communications | WIFI/Bluetooth/Ethernet |
Package Includes:
1pc x Overseas super remote diagnosis box V2.0 (maintenance end, 98934, no label)
1pc x HD15F to OBDII 16 male integrated test connector, RoHS
1pc x DB15F to HD15F test main line (without DC), L=1000mm, RoHS
1pc x Double clamp power cord (English, without LAUNCH), RoHS
1pc x Cigarette lighter cable (English, no LAUNCH), RoHS
4pcs x Fuse, AC250V/5A, φ5*20mm ROHS
2pcs x Fuse, AC250V/5A, φ6*30mm ROHS
1pc x X431 PAD4HD USB Type A to Type B Cable, RoHS
1pc x Category 6 Gigabit Network Cable (Blue) 15m, RoHS
1pc x SmartLinkC V2.0 Heavy Duty Truck Module Multilingual Quick Start, RoHS
1pc x X431 PAD4HDB15M-CAT-9/CAT 9PIN integrated diagnostic connector, RoHS
1pc x X431 PAD4HDB15M-VOLVO-8/Volvo 8PIN integrated diagnostic connector, RoHS
1pc x X431 PAD4HDB15M-16 Integral diagnostic connector, RoHS
1pc x X431 PAD4HDB15M-Type II OBD-9 Integral Diagnostic Connector, RoHS
1pc x X431 PAD4HDB15M-6 Integral diagnostic connector, RoHS
1pc x X431 PAD4HDB15M-JUMPER-10 heavy truck jumper 10PIN diagnostic connector, RoHS
1pc x X431 PAD4HDB15M-IVECO-30/IVECO 30PIN Integrated Diagnostic Connector, RoHS
1pc x X431 PAD4HDB15M-IVECO-38/IVECO 38PIN Integrated Diagnostic Connector, RoHS
1pc x X431 PAD4HDB15M-MAN-12/Man 12PIN integrated diagnostic connector, RoHS
1pc x X431 PAD4HDB15M-BENZ-14/Benz 14PIN integrated diagnostic connector, RoHS
1pc x X431 PAD4HDB15M-MAN-37/Man 37PIN integrated diagnostic connector, RoHS
1pc x X431 PAD4HDB15M-RENAULT-12/Reynolds 12PIN integrated diagnostic connector, RoHS
1pc x X431 PAD4HDB15M-MITSUBISHI-12+16/FUSO 12+16PIN linear diagnostic connector, RoHS
1pc x X431 PAD4HDB15M-HYUNDAI-16/Hyundai truck 16PIN linear diagnostic connector, RoHS
4pcs x X-431 PAD IV electric control adapter cable 1, RoHS
4pcs x X-431 PAD IV electric control adapter cable 2, RoHS
4pcs x X-431 PAD IV electric control adapter cable 3, RoHS
4pcs x X-431 PAD IV electric control adapter cable 4, RoHS
4pcs x X-431 PAD IV electric control adapter cable 5, RoHS
4pcs x X-431 PAD IV electric control adapter cable 6, RoHS
4pcs x X-431 PAD IV electric control adapter cable 7, RoHS
4pcs x X-431 PAD IV electric control adapter cable 8, RoHS
4pcs x X-431 PAD IV electric control adapter cable 9, RoHS
1pc xUniversal password envelope (without LAUNCH), RoHS
1pc xSmartLinkC V2.0 Heavy Duty Truck Module Multilingual Quick Start, RoHS