Renolink OBD2 Renault ECU Programmer V1.99 For Renault/Dacia ECU Programmer Airbag/Key Coding
Renolink OBD2 For Renault ECU Programmer
Latest Version V1.99
Software Language: French + English
Software Database For Renolink is December 2021.
Features:
Clear Crash Airbag (for example in v1.98 Clear crash For Dacia Logan3, For Dacia Sandero3, For Renault Clio5, Km in ABS ATE for Megane3, Scenic3, etc with 2 clicks)
Read/write eeprom
EPS Virginizer
ECM read/write flash
UCH Cleaner - Read PIN UCH T4
Keys (news Dacia Duster Docker Logan new)
Card Laguna 3 / Megane 3 in protected mode
TDB (cluster) and much more modify km
Decoding direction assitee (DAE) - power steering for Renault Megane 4 and For Renault Megane 4 ph2 & Clioo 5

V1.99 New Function released:
virginiser of steering assitst For Renault Megane 4, For Renault Scenic 4, For Renault Kadjar and For Renault Talisman.
Codding will do automatically at the first ignition.
Also database from december 2019 was added.

In this version was implemented:
- Reading of PIN code For HFM Renault Clio 4 and For Renault Captur 2016+, a valid Card is required to teach HFM,
because the procedure virginses it.
Also a new database from december 2019 was added.
- this version we added cards programming For Clio4 (2012-2015), also a new database from July 2019

Was added into this update:
deletion immo code from the power steering (DAE) in Dacia Duster ph3.
the encoding is automatic - at the first ignition.

Was added:
- learn ecu from DACIA Logan 2 / DACIA Sandero / DACIA Lodgy / DACIA Docker / DACIA Duster ph2
This update is for well known problem with ECM V42 )
- read/write eeprom and read/write flash For dashboard Dacia Logan2 / Dacia Sandero2 / Dacia Lodgy / Dacia Docker / Dacia Duster ph2 from years 2013-2014 and 2014-2017
-Read/write flash, eeprom and km were added for dashboard (VDO) Mégane 3 and Fluence 2015+
- Was added into program - read and write flash, eeprom and km for the Laguna 3 dashboard.
- read/write km,- read/write eeprom, - read/write flash for dasboard Renault Fluence.
- Also was added key programming UCH BMT Sagem for Dacia Solenza, For Dacia Supernova, For Renault Twingo,
For Renault Kangoo, For Renault Master (years 1998-2003)
- Read/write km For dashboard For Renault Modus
- Read/write km, read/write eeprom for dashboard Koleos

Was added into program : KEY PROG
* key programming For Dacia Logan 2
* key programming For Dacia Sandero 2
* key programming For Dacia Duster ph 2
* key programming For Dacia Lodgy
* key programming For Dacia Dokker
* key programming For Renault Clio Symbol 3

Description:
Renolink OBD2 For Renault ECU Programmer ( ECU-Airbag- Key )
Reno'link has many features like UCH matching, airbag programming, engine ECU programming, key coding, key deletion, dashboard coding, eeprom and flash reading and writing in Renault and Dacia vehicles.
You can connect Reno'link programmer device to vehicles via OBD socket, and you can make programming easily and delete memory and introduce units without disassembling ECU, EPROM and flash drives.
Thanks to the Reno'link, you can easily virginize and re-program the parts like UCH, motor bracket, indicator, airbag module, fuse table, which are installed new or used ones
on the Renault and Dacia vehicles.

The works you can do with Reno'link programming device:
- Eprom read / write
- ECU Resetting
- Clear Crash Airbag
- Airbag reset
- Airbag Virginize
- KEY Programming
- TDB (cluster)
- Indicator Programming
- ECM Programming
- UCH Programming
- EPS Virginizer
- EPS Resetting

Package List:
1pc X RenoLink OBD2 Interface
1pc X Software CD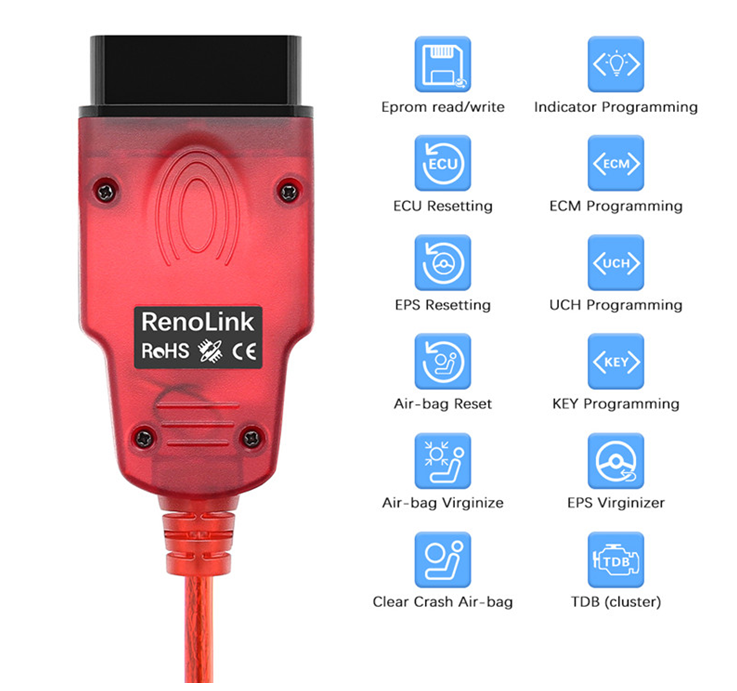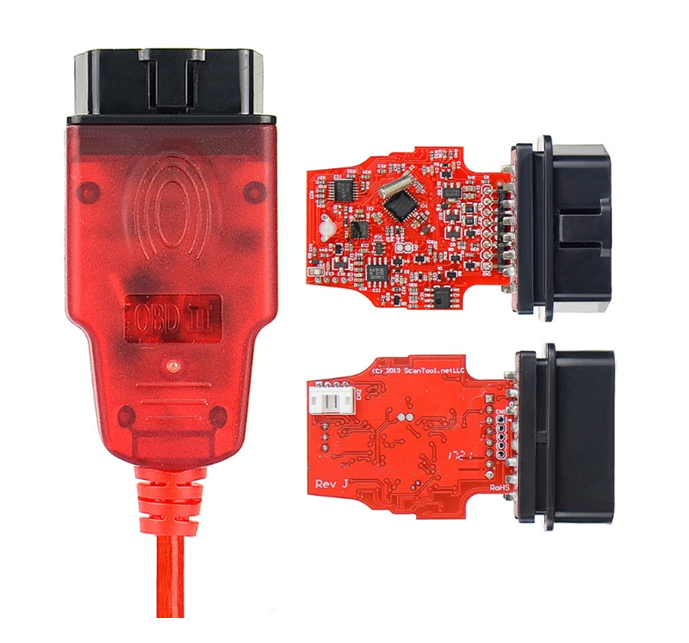 Please feel free to contact us ,If you have any question:
Email:
Sales@obd2.ltd
Whatspp: +8613632856735

Shipping Terms:
a) Items will be sent to all the countries over the world. This package will be sent by DHL, Fedex, EMS, UPS, USPS, Singapore Post or E-Packet .
b) Items will be checked carefully before sent out.
c) We will use air bubbles to wrap the items carefully.

Shipping Time:
a) Ships within 48 hours on working days after received the payment.
b) The shipping time is about 5-7 days via DHL, UPS, 5-10 days Via Fedex, 7-10 days via EMS, 7-30 days via USPS, Singapore Post or E-Packet to Worldwide
Note: We hope it arrive on time but since this is an international delivery, shipping time will be highly depended on the courier company and local customs/duties. Thank you for your understanding.
Return Policies:
Returns will be allowed only with prior authorization, and must be made within 30 days after package delivery.
Item conditions that allow returns Brand new Item, returns must include all accessories, Items must include original packaging
Other cases are as follows:
(1) When the item is defective, the item was sent in error, damaged in transit, or otherwise defective,It can not work once you receive it. In this case we allow returns. We bear the shipping cost.
(2) When you buy the wrong item, the item doesn't fit, or you don't want the item, the item you return need to be brand new. you need bear shipping costs.

Contact Us:
Our Email sales@obd2.ltd 24 hours 7 days
And if nobody answer you online in time sometimes,do not worry.leave us a message or write down your desires,we will contact you as soon as possible.
Attention: PLZ leave your telephone number and address in detail when you take order in our website, it is very important to ship your order. (Customers from Brazil PLZ leave your Cutsom ID also, thanks!)