Launch X431 V(X431 PRO)8inch Tablet Wifi/Bluetooth Full System Diagnostic Tool Two Years Free Update Online
X-431 V is a new Android-based vehicle trouble diagnostic device developed for internet applications. it inherits from LAUNCH's advanced diagnosing technology and is characterized by covering a wide range of vehicles , featuring powerful functions, and proving precise test result.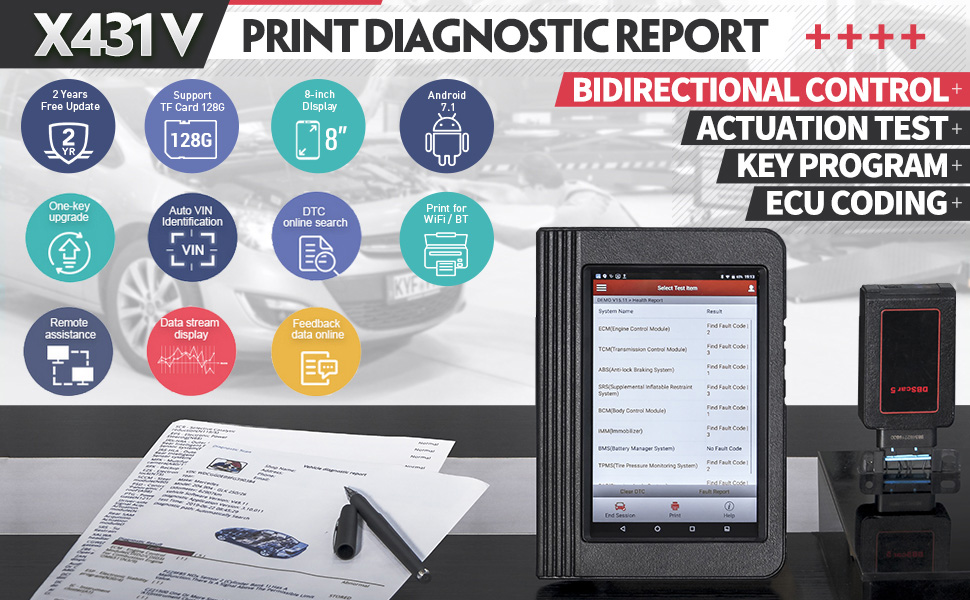 Through the Bluetooth communication between vehicle diagnostic connector and variant mobile intelligent terminals , is achieves X-431 series full car model and and full system vehicle trouble diagnostic which includes Reading DTCs, Clearing DTCs ,Reading Data Stream , Actuation Test and Special Function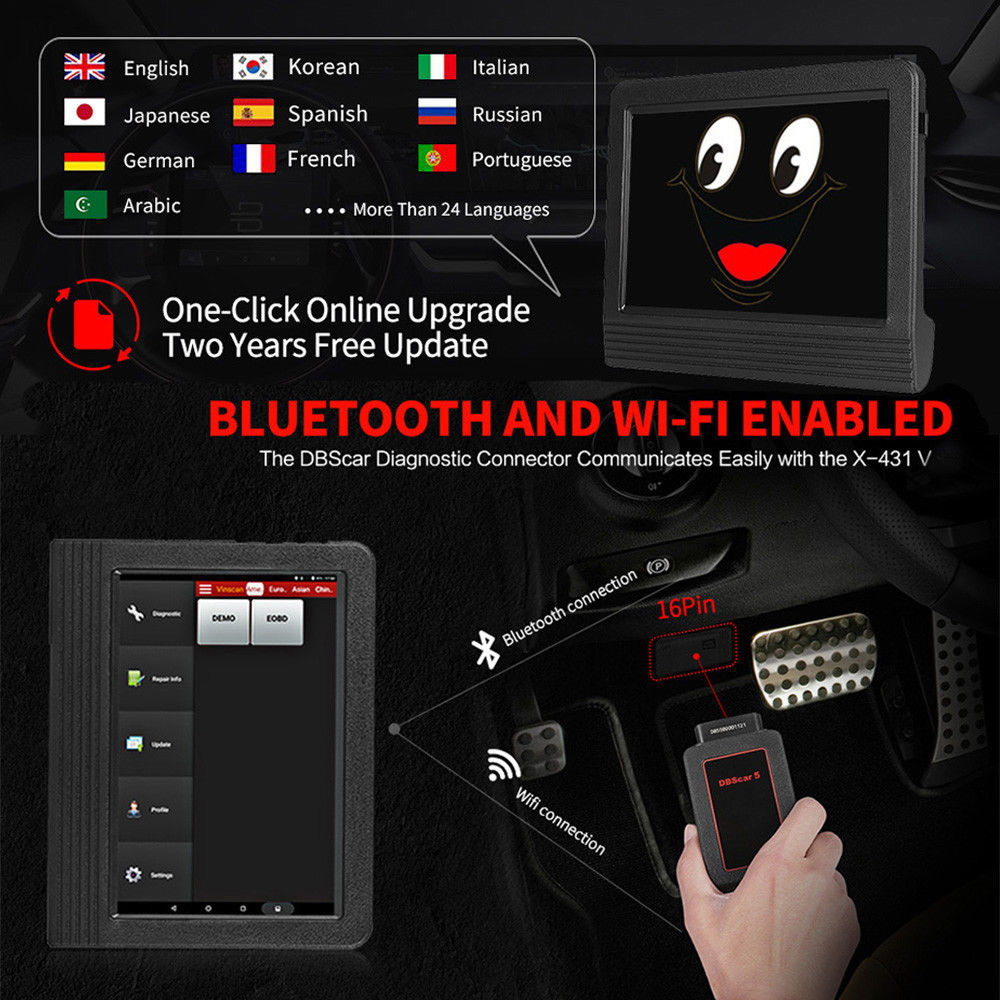 Top 7 Reasons to Buy Launch X431 V:
1. Multi-Languages:
English, German, Japanese, Russian, French, Korea, Arabic, Spanish, Italian, Portuguese, Polish, Turkish, Dutch, Greek, Hungarian, Arabic, Danish, Persian, Romanian, Serbian, Finnish, Swedish and Czech
2. One-Click Free Update Online for 2 Years,
update cost is 399.00USD/Year, after first two years
3. Dealer Code: 755D, no IP or language limitation, directly to use
4. Communicate with vehicle via Wifi and Bluetooth, Bluetooth distance:10M (without obstacle)
5. Full system diagnosis and fast running speed, Reasonable PDA design, easy to carry
6. Work on to 69 car brands about 220 car models from European, USA, Asian, Australian, Indian, Malaysian cars, such as Benz, BMW, Ford and other mainstream models, also support IRKIA, PERODUA, Proton, TATA, Maruti, Lancia etc.
7. Support 11 Special Functions Full System Diagnosis: Brake reset, Oil reset, SAS Rest, BAT reset, Bleeding , Elec. throttle Relearn, TPMS reset, DPF reset., Gear learning, IMMO, etc, also support special function such as BMW idle study, BMW
X-431 V is a new Android-based vehicle troublLaunch X431 V V4.0 is a high cost-effective automotive diagnostic device developed based on Android 9.0 System. It adopts 2.0GHz Quad-core processor, which runs faster and more stable. It is equipped with DBSCar IV connector as standard, which can be directly inserted into the slot of the host connector, easy to use and not easy to be lost. X431 V V4.0 can cover more than 98% of the car models in the market, realize the fault diagnosis of the whole system, and has many advantages such as strong diagnosis function and accurate test data.
All System Diagnostic Tool
1) Full Diagnose Function: X431 V can diagnose the electronic control system of prevailing vehicle models covering Asian, European, American and China. Full range car models and Full car systems diagnose make it a professional automotive diagnostic tool
2) Diagnosis functions include: Read DTCs, Clear DTCs, Read data stream, Special Function etc.
3) Bidirectional control: Bi-Directional Control which is used to request information or command a module to perform specific tests and functions
4) Actuation Test: it can send information to and receive information from a vehicles control module.
5) Key Programming: if you know you the PIN# of your car, x431 v can match a new key for you .
6) ECU Coding: after replace a new ecu for car, x431 v can help you code it. It is very useful for mechanic.
7) Remote Assistance: launch x431 v support remote diagnosis, if you need help from other mechanic, open the remote control function.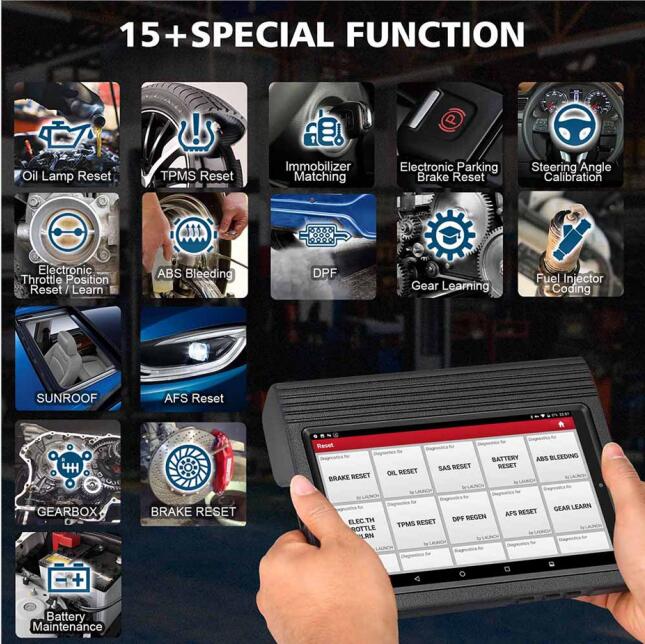 16 Kinds of Special Reset Service Functions:
1) Oil Reset Service
This function can be performed in the following cases:
a). If the service lamp is on, you must provide service for the car. After service, you need to reset the driving mileage or driving time so that the service lamp turns off and the system enables the new service cycle.
b). After changing engine oil or electric appliances that monitor oil life, you need to reset the service lamp.'
2) Steering Angle Calibration
a). To reset the steering angle, first find the relative zero point position for the car to drive in straight line. Taking this position as reference, the ECU can calculate the accurate angle for left and right steering.
b). After replacing the steering angle position sensor, replacing steering mechanical parts (such as steering gearbox, steering column, end tie rod, steering knuckle), performing
four-wheel alignment, or recovering car body,you must reset the steering angle.
3) Electronic Parking Brake Reset
a). If the brake pad wears the brake pad sense line, the brake pad sense linesends a signal sense line to the on-board computer to replace the brake pad.After replacing the brake pad, you must reset the brake pad. Otherwise, the car alarms.
b). Reset must be performed in the following cases:
The brake pad and brake pad wear sensor are replaced.
The brake pad indicator lamp is on.
The brake pad sensor circuit is short, which is recovered.
The servo motor is replaced.
4) ABS Bleeding
This function allows you to perform various bi-directional tests to check the operating conditions of Anti-lock Braking System (ABS).
a). When the ABS contains air, the ABS bleeding function must be performed to bleed the brake system to restore ABS brake sensitivity.
b). If the ABS computer, ABS pump, brake master cylinder, brake cylinder, brake line, or brake fluid is replaced, the ABS bleeding function must be performed to bleed the ABS.
5) Electronic Throttle Position Reset/Learn
This function enables you to initialize the throttle actuators so that the "learned" values stored on ECU are returned to the default state. Doing so can accurately regulate throttle
(or idle engine) operations to control the amount of air intake. Throttle matching must be performed in the following cases:
a) The ECU is replaced and the ECU does not yet store throttle working features.
b)The ECU is disconnected from power and the ECU memory is lost.
c) The throttle assembly is replaced.
d) The intake pipe is replaced or removed, which affects idle speed control by ECU and throttle body.
e) The throttle is cleaned. Although the idle throttle potentiometer features remain unchanged, with the same throttle opening, the air inflow has changed and idle speed control features have changed.
6) Battery Register/Battery Maintenance
This function enables you to perform a resetting operation on the monitoring unit of vehicle battery, in which the original low battery fault information will be cleared and battery matching will be done. Battery matching must be performed in the following cases:
a) Main battery is replaced. Battery matching must be performed to clear original low battery information and prevent the related control module from detecting false information.
If the related control module detects false information, it will invalidate some electric auxiliary functions, such as automatic start & stop function, sunroof without one-key trigger function,power window without automatic function.
b) Battery monitoring sensor. Battery matching is performed to re-match the control module and motoring sensor to detect battery power usage more accurately, which can avoid an error message displaying on the instrument panel.
7) Diesel Particulate Filter (DPF) Regeneration
DPF regeneration is used to clear PM (Particulate Matter) from the DPF filter through continuous combustion oxidation mode (such as high temperature heating combustion, fuel additive or catalyst reduce PM ignition combustion) to stabilize the filter performance.
DPF regeneration may be performed in the following cases:
a) The exhaust back pressure sensor is replaced.
b)The PM trap is removed or replaced.
c) The fuel additive nozzle is removed or replaced.
d) The catalytic oxidizer is removed or replaced.
e) The DPF regeneration MIL is on and maintenance is performed.
f) The DPF regeneration control module is rep
g) Tire Pressure Monitor System Reset
8) Tire Pressure Monitor System Reset:
This function is used to reset the tire pressure sensor. When the car tire air pressure fault indicator is on, after the repair, the tire pressure system needs to be reset by the tire pressure reset function, and the tire pressure fault indicator is extinguished.
9) Gear Learning:
The crankshaft position sensor adaptive learning, the crankshaft position sensor learns the machining error of the crankshaft teeth, and stores it in the computer to more accurately diagnose the engine misfire.
10) Immobilizer Matching:
In order to prevent the car from being used by the illegal key, the car can be opened and used after the anti-theft control system on the car recognizes and authorizes the remote control key through the anti-theft key matching function.
11) Fuel Injector Coding:
This function can write the actual code of the injector or rewrite the code stored in the ECU into the code corresponding to each cylinder nozzle, so as to more accurately control or correct the fuel injection amount of each cylinder.
12)Air Suspension Reset
13)Gearbox Reset
14)Sunroof RESET
15)AFS Reset
16)EGR Reset
Note: These special function NOT for all car models, if you are confused, Please send your car brand, model and release year to seller to check it for you.
Launch X431 V 8inch Support Vehicle List: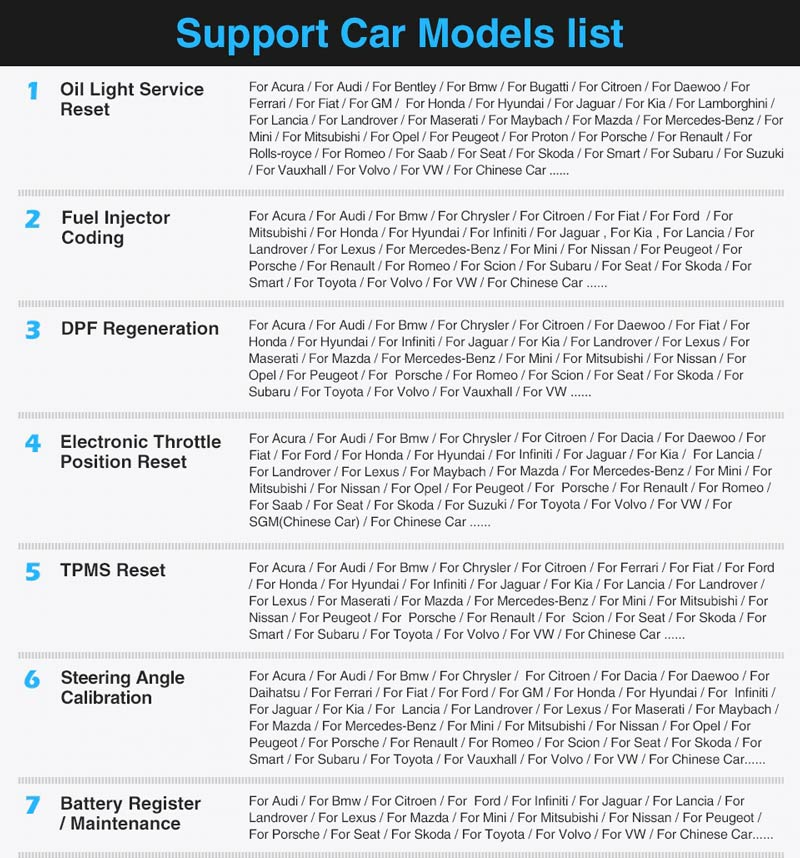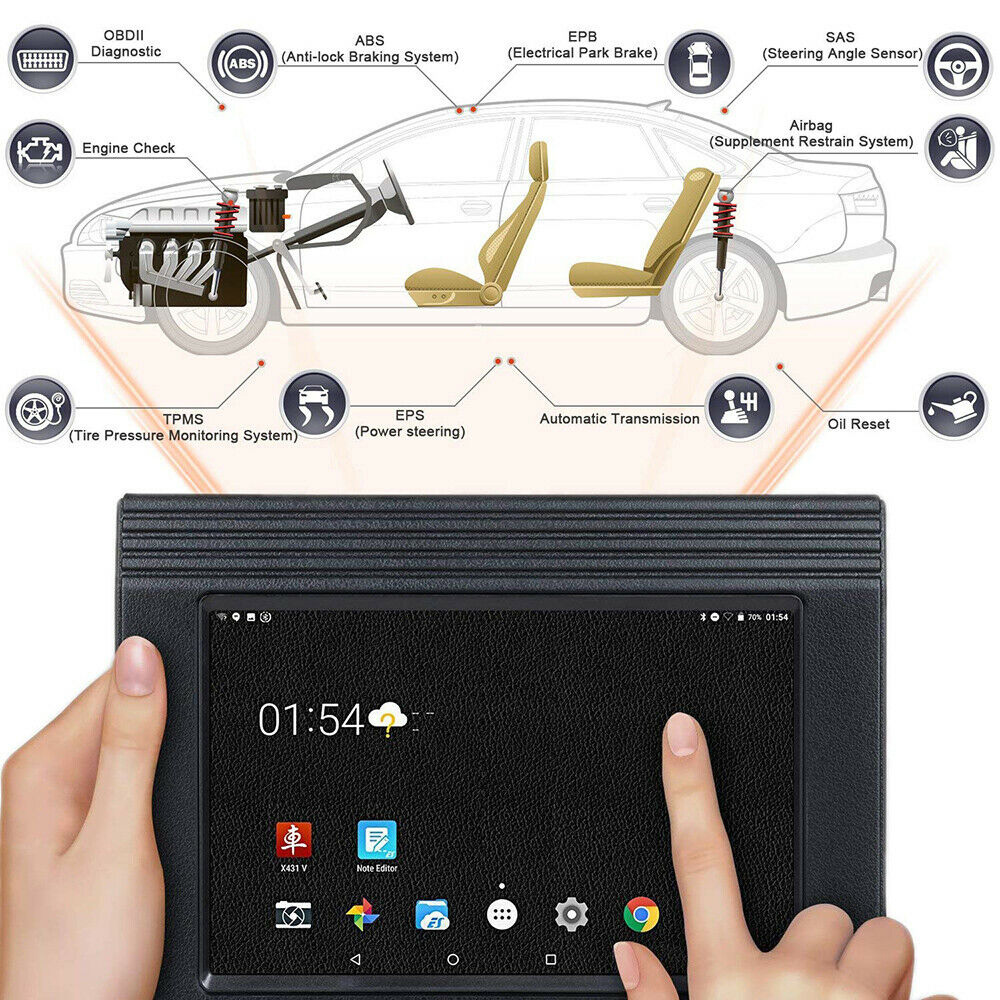 Launch X431 V 8inch Support Vehicle List:
Supports most car models from European, USA, Asian, Australian, Indian and Malaysia.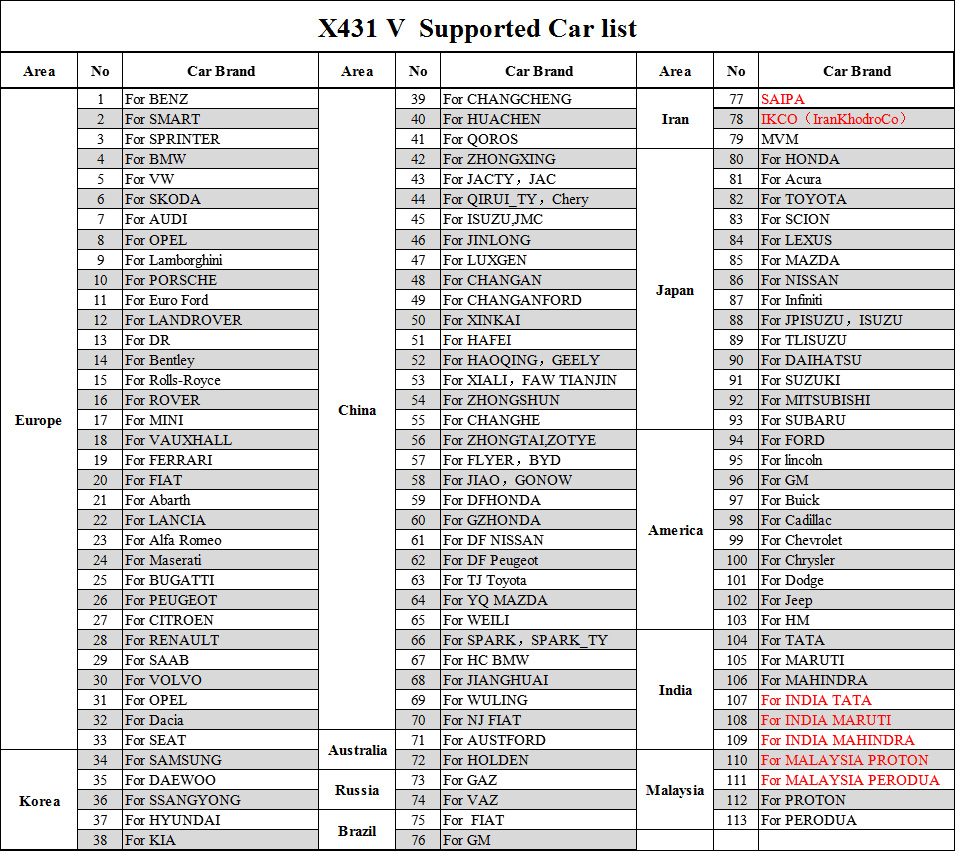 Pls Note: Software with red font is required to be purchased separately.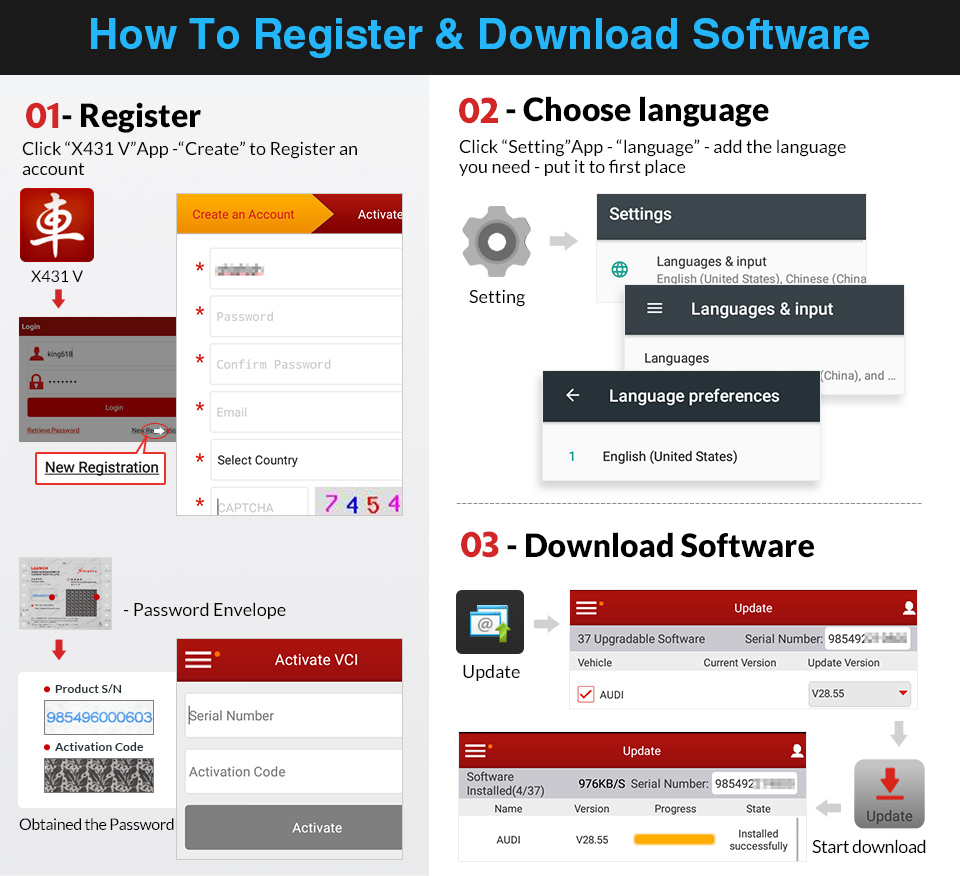 Launch X431 V Packing List:
1x X431 V Tablet
1x DBScar5
Connectors:
1x for TOYOTA-17
1x for HONDA-3
1x for MAZDA-17
1x for BMW-20
1x for FORD-6+1
1x for Ssang Yong-20
1x for CHRYSLER-6
1x for SUBARU-9
1x for KIA-20
1x for DAEWOO-12
1x for GEELY-22
1x for GMVAZ-12
1x for Toyota-22
1x for Benz-38
Cables:
1x for GAZ
1x OBDII-16 Extend
1x for Ssang yong-14
1x for SUZUKI-3
1X for AUDI-4
1x for FIAT-3
1x for MITSUBISHI HYUNDAI-12+16
1x OBD I Adapter
1x for BENZ-14
1x for NISSAN-14+16
1x for DAIHUATSU-4
1x Power Cable Clips
Other:
X431 Charge
X431V manual
USB Cable
Clpper fuse
X431 Pin envelope
X431 Pin envelope