V2023.09 Mercedes BEZN C6 MB SD Connect C6 Benz Xentry diagnosis DOIP VCI PLUS lenovo X220 Laptop i5 512G SSD
Lots of customer encounter setting problem when using MB STAR C6 diagnosis, so we recommend this bundling sale for those customer who want once get in hand then can use it directly. We will install and activate for you ready to use. What's more, this package offer saves you money than buying
MB Star C6 Software Description:

1.
DAS / Xentry
V2023.09 :
Xentry
:the automatically Diagnosis Assistance System
DAS:
New software released by Benz Company after 04/2009 by diagnosis new cars.
2
.WIS net 2021.07
: Workshop Information System
Supply the whole view of the wiring diagram in a car, component location diagram, and maintenance method. What you do is to enter the chassis number, and then you will get the manufacture data, engine configuration, and the car model -all in detail.
3
.EPC net 2018.11
: Electronic Parts Catalog
4.
ST Finder
2020, StarFinder : 2022,StarFinder : 2008 optional: a Part location finder
5.
SDmedia 2015.01
6.
This C6 hardware not support Vediamo
7.
DTS 9.02
+
DTS8.13
: Engineering software for offline programming
1) Fix the error that Mercedes-Benz DAS cannot directly call WIS
2) Join the DAS sedan smart offline programming
3) Join the 204 DAS stand-alone version, which can be mutated (German), which is more powerful than Vediamo
4) Join DAS special function password-free access PKW and SMART
5) Repair SMART 450, 451, 452, 454 No longer need TAN Calculator, all offline
6) Increase offline EOL and VMAX all LKW, modify truck maximum speed limit
7) Lift the truck NOx TORGUE restriction, do not need FDOK XT calculation code, directly enter, directly cancel the legal speed limit, you can modify without special function
8) Clear the truck SCR/ADBLUE fault code (MR), do not need FDOK XN calculation code, enter it directly
9) Add DAS 212,207 prototyp model
10) Add Xentry special features and the VeDoc calculator ($30 for activation)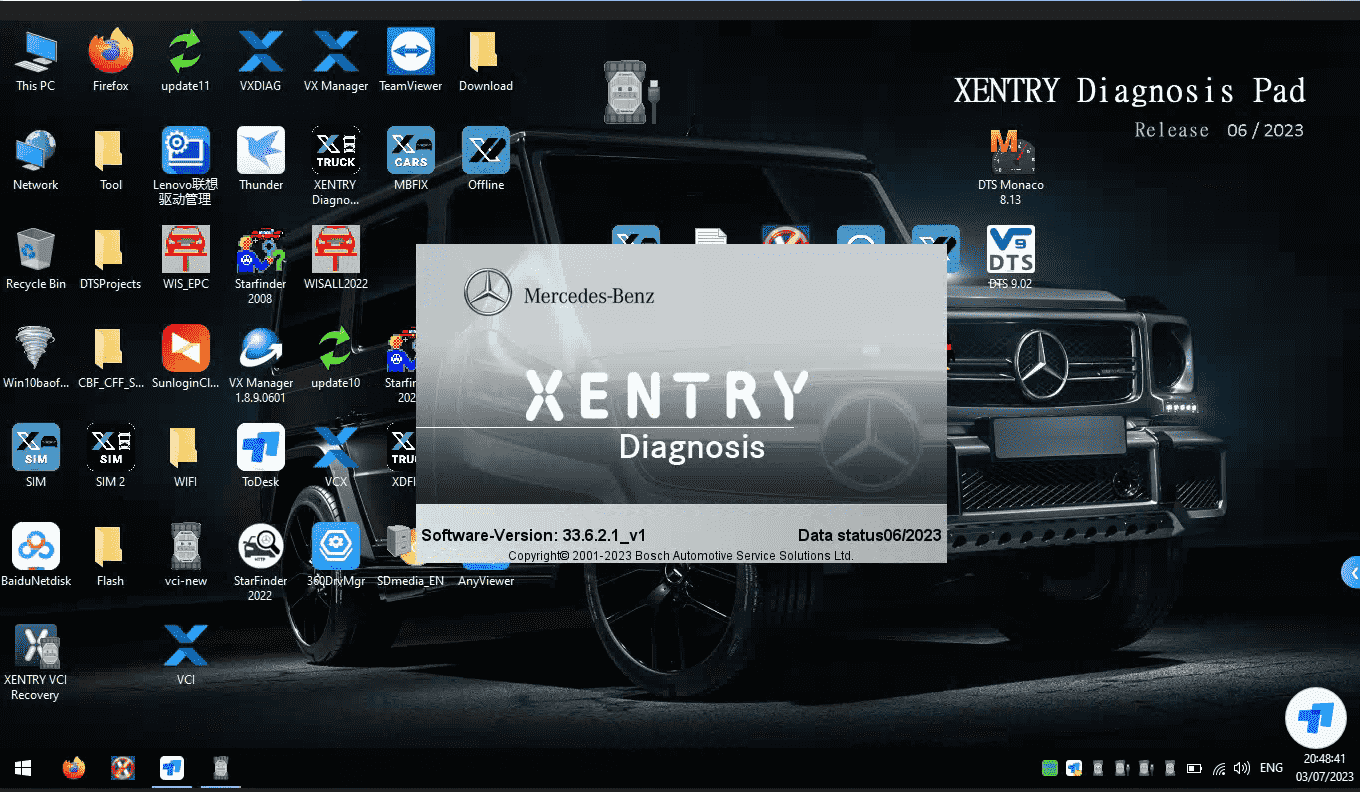 Software Version: V2023.09(Xentry and DAS)
Support Multi-Language:(Default language is English, if you want other languages, please leave message) English/ Bulgarian/ Danish/ Greek/ Spanish/ French/ Italian/ Korean/ Polish/ Romanuan/ Serbo-Croatian/ Turkish/ Czech/ German/ Finish/ Hyngarian/ Japanese/ Dutch/ Portuguese/ Russian/ Swedish/ Chinese
Mercedes Benz C6 OEM Xentry diagnosis VCI DOIP Pass thur interfac is the latest interface for For Mercedes & SMART vehicles can replace Star C4/C5. XENTRY Diagnosis VCI acts as a Pass-through Interface, also called MB Star C6, For Benz C6 multiplexer to provide complete communication between a vehicle and the XENTRY software loaded on a PC.
Mercedes Benz Xentry diagnosis VCI DOIP Pass thur interface Benz C6 Overview:
Compatible Software:
VXDIAG For XENTRY/Das Software
Support Vehicle:
Mercede For Benz & Smart vehicles
DoIP:
Support DoIP
Functions: Star Diagnostic & programming (SCN Coding)
Mercedes Benz Xentry diagnosis VCI DOIP Pass thur interface C6 Summary:
Mercedes Benz Xentry diagnosis VCI DOIP Pass thur interface C6 (Vehicle Communication Interface) multiplexer serves as the interface to the vehicle when performing diagnosis and repairs, and programming electric and electronic on-board vehicle systems.
Mercedes Benz Xentry diagnosis VCI DOIP Pass thur interface C6 Features:
Can be used for all model series of For Mercedes For Benz vehicles
Support DoIP, cover more functions during SCN Coding than SD C4/C5
Functions including diagnosing, programming, simulation studying, repair information, automotive maintenance, technical service bulletin and so on
Diagnosis updates no longer necessary � firmware updates required on rare occasions
Does not need a power supply unit for external power supply
Dandy multiplexer with a small, sturdy construction (no PC core, battery, fan, or display)
Engines (All Gasoline & Diesel Systems)
Transmissions and Electronic Selector Modules
Airmatic and Active Body Control Suspension Systems
Traction Systems: ESP / ASR / ETS / ABS / BAS / SBC braking systems
Supplementary Restraint Systems (SRS) / Airbag, All body modules OCP / UCP / LCP / SCM / SKF / KFB / RCM / DCM�s
Drive Authorisation System
Sam (Signal Acquisition) Modules
Electronic Ignition System (EIS)
Pneumatic System Equipment and ATA functions
Air Conditioning / climate control Systems
Instrument Cluster
Tyre Pressure Control
Parktronic System
Keyless Go
D2b Command & Audio Gateway (D2B and MOST networks)
TV Tuner
Headlamp Range Adjustment
Seat Electronics
Rvc, RST & Vario Roof modules
Automatic Clutch System ACS
M-Class Body Modules (AAM / EAM / DAS / SEM / VG Transfer Case)
Assyst & ASSYST + systems
MB Star C6 Xentry diagnosis VCI DoIP Pass-thru interface Supported Vehicle List:
MB SD C6 Support Mercedes Benz Cars After the Year 2010
Passenger Car Support List:
A(176), A(169), A(168), B(246), B(245), CLC(117), C(204) C(203), C(202), 190(201), E(212), E(211), E(210), 124(124), S(222), S(221), S(220), S(140), S(126),
E(207), CLK(209), CLK(208), CLS(218), CLS(219), CL(216), CL(215), CL(140) SLK(172), SLK(171), SLK(170), SL(231), SL(230), SL(129), SL(107), SLS(197),
M(166), M(164), M(163), G(463), G(461), E(212), E(211), E(210), 124(124), S(222), S(221),S(220), S(140), CLK(209), CLK(208), CLS(218), CLS(219), CL(216),
CL(215), CL(140), SLK(172), SL(231), SL(230), SL(129), SL(107),SLS(197), M(166), M(164), M(163), G(460), GL(164), GLK(204), R(251)
Van Support List:
MB 100(631), T1, SprinterIII, SprinterII, SprinterI, Sprinter900, Citan, Vito(639), Vito(638), V(638), Viano(639), T2, Vario, Vaneo(414)
Super Sports Car Support List:
SLR(199) etc.
Second Hand Laptop Lenovo X220 Specification:
Brand:
Lenovo
Condition
: Used
Type
: Laptop/Notebook
Screen Size
: 14.0
Processor Type
: Intel (R) Core(TM) I5-2520M CPU
Processor Speed
: 2.50 GHz
Memory
: 4GB
Hard disk:
512G SSD
Package list:
1pc x MB STAR C6 Multiplexer
1pc x OBDII Cable
1pc x Lan Cable
1pc x Second Hand Laptop Lenovo X220 Laptop All software activated. All system ready to use