Launch X431 PAD V PAD5 Full System Professional Diagnostic Tools Support Online Coding and Programming
New Arrival X431 PAD V 10.1 inch Full System Diagnosis tool, Online programmer, Support DOIP / CANFD protocol and Security Gateway, 31+ Reset functions , remote diagnosis ,Bi-directional Control,12 in 1 data stream ,5 Years warranty ,Multi Languages Supported + Global Version(Can be used in worldwide)+32GB Storage(Can be extended to 128GB)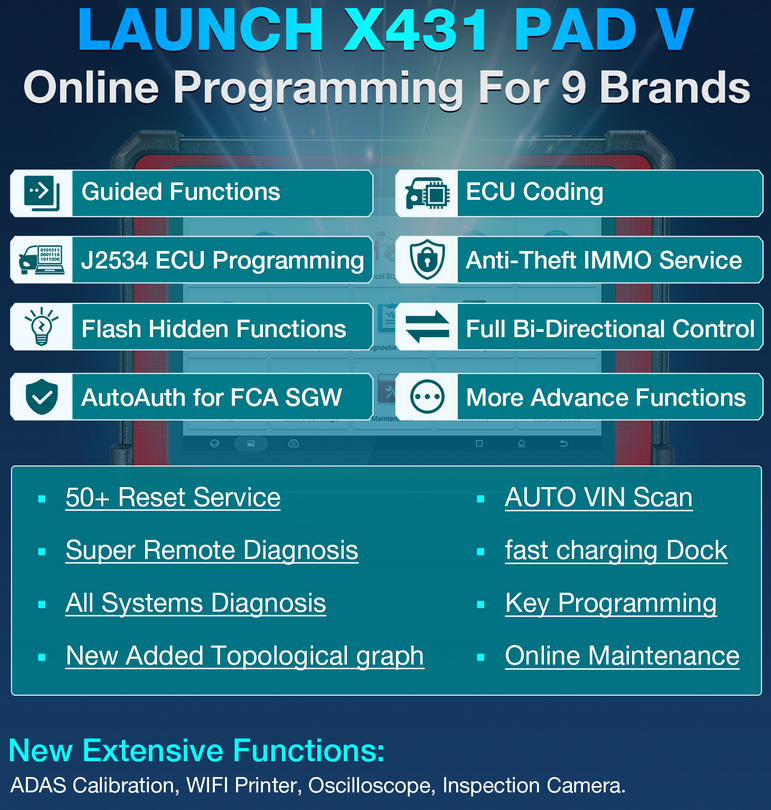 Note: Online Programming function has not been authorized in the USA, Canada, and Spain.
Launch X431 PAD V 5 Highlights:
1. Global Version No IP Limitation
2. Free Update Online for 1 Year. After 1 Year it will cost $399/year
4. Realtime Remote Diagnosis Function via WiFi
5. Support Commercial Vehicle and Passenger Car diagnose, Support J2534, CAN FD, DoIP
6. 8 core 2GHz CPU; 4G RAM, 64G memory; 10.1 inch full-fitting, sunlight readable screen (Gorilla Glass) and IP65 protection.
7. Special Functions Supported: Immobilizer/ Key, Injector, Reset Brake Bleed, Reset TPMS, Electronic Throttle Relearn, Reset DPF, Reset SAS, Reset Oil, Reset Brake, Reset BMS
8. Multi-Language: Italian English Chinese German Japanese Russian French Spanish Portuguese Polish Turkish Dutch Greek Danish Arabic Korean Persian Finnish Swedish Romanian Czech Hungarian
9. Online Programming till Year 2020: BMW, Mercedes, VW, Audi, Seat, Skoda, Porsche, Nissan, Infiniti, Subaru
X431 PAD V is so expensive , why need to Choose it ?
1. Launch X431 PAD v is with Smartbox V3.0 diagnose connector , it supports All diagnostic protocols : J2534 protocol + D-PDU protocol + RP1210 protocol + CANFD+DOIP protocol
What is more , LAUNCH X431 PAD V is the only onesupport DOIP/CANFD protocolin the market until now , and it alsosupport Security Gateway.
DOIP/CANFD protocol is the new protocol , some new cars is with them , like for LandRover , for GM , For Ford , it will be used to many other new cars .
Security Gateway is used for Chysler , for Nissan etc .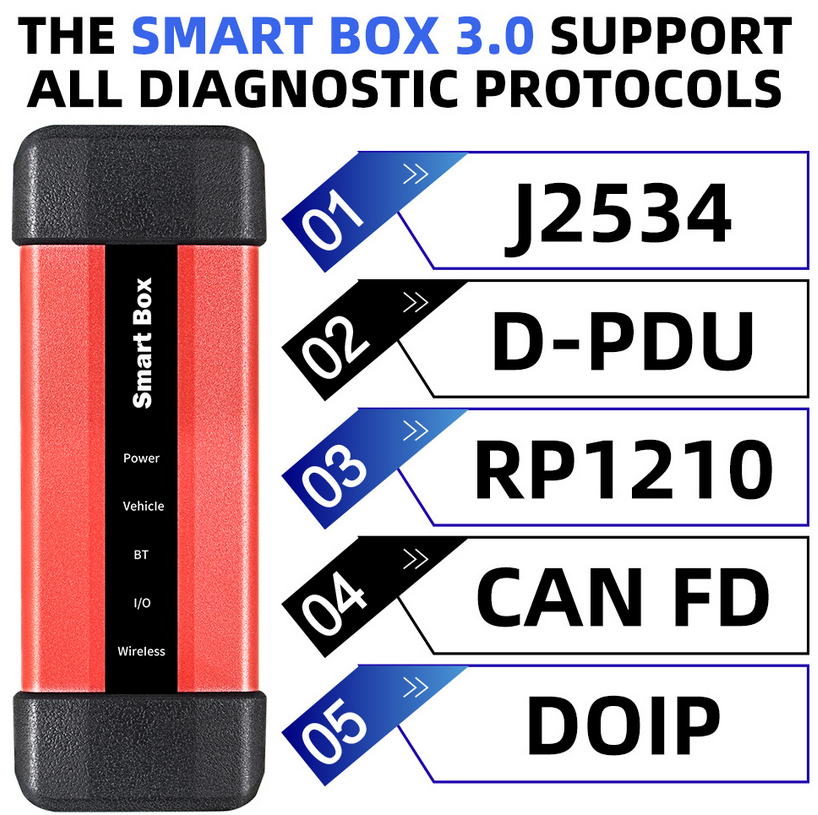 2. X431 PAD VSupport PEV ( pure electric vehicle ), other launch x431 device supports Hybrid cars , but do not support PEV .
3.Online programming( more safty during programming , even though you failed during programming , x431 pad v can allow you program again , will not break the ECU )
X431 PAD V supports programming and coding, which is to write the relevant control information of the software into the automotive computer's programmable EPROM or FLASH by making use of the electronic communication transmission technology.
X431 PAD V Support intelligent recognition of programming files, convenient and quick operation.Support for Mercedes-Benz, for Benz New Energy, for BMW, for BMW New Energy, for GM, General New Energy, for Ford,Ford New Energy, for Volkswagen, for Volkswagen New Energy, for Audi, for Audi New Energy, for Land Rover, for Nissan,Skoda, for Seat, for Mazda and other models Programming function.
4. Faster Speed , Best Hardware , supports works under the sun
X431 PAD V is with 5GHz Dual Frequency wifi, with 8-core Processor 2.0GHz
CPU , so x431 pad v is more fast speed to operate ( update and programming ) . 4GB Memory with 64GB Storage (can up to 128GB)
5. X431 PAD V is with 10.1 inch IPD Touch Sceen ,it can work under the sun( you can se the screen clear under the sun ), launch x431 other products can not work under the sun .
6. X431 PAD V is with Type C connector .
7. ADAS Calibration Function +TPMS Diagnostic Function
Advanced Driver Assistance System (ADAS) is an electronic component in a vehicle, including various safety functions of the vehicle, such as automatic emergency braking (AEB), lane departure warning (LDW),lane keeping assist, blind spot elimination, night vision camera and Adaptive lighting.
The function on the equipment is disabled by default, and the user needs to activate the function with an activation card before using it. And this function needs to be matched with THINKCAR ADAS calibration tools. Mainly used to calibrate various camera and radar of driver assistance systems
8. With topological diagram Function
it can shows All car system in the Diagram , better to let you know the car clearly and simple !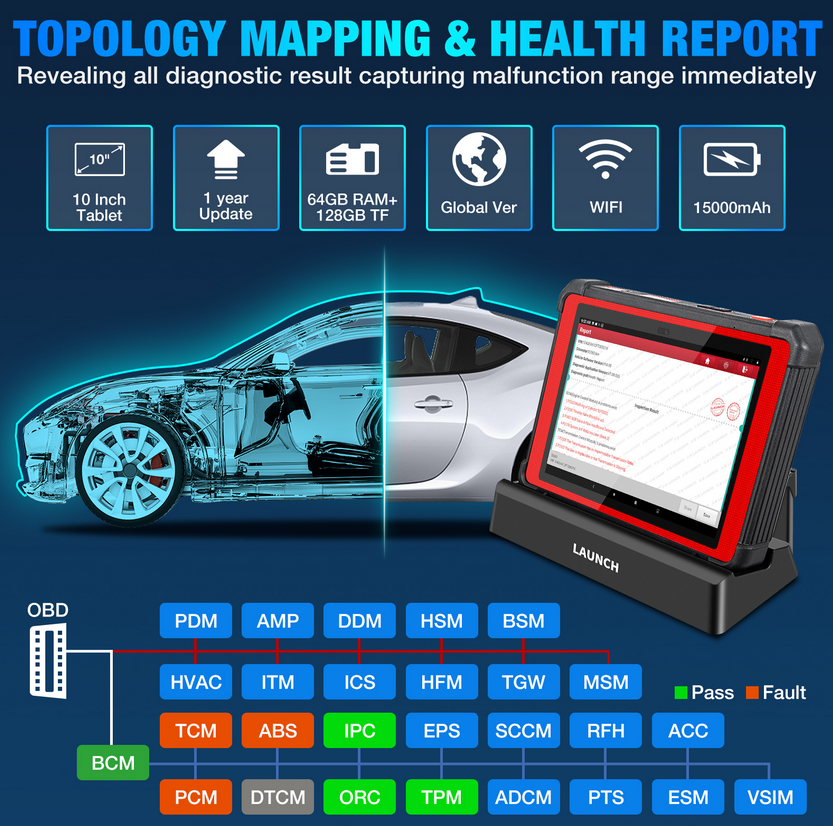 9. Guided Functions for VW and for Audi Brands
X431 PAD V has guided functions among all online products of LAUNCH.
Guided Functions show all specific operating instructions step by step, and automatically run the instructions to do the resetting, matching, coding etc.
You just need to follow the instructions and click complete/continue to do it.
It is a good assistant helping you to find a way during the car repairing.
10. OBD2 Procotol 16pin connector pin detection Function ( Only X431 PAD V has the function ):
Analysis and description:Pin detection can be used to detect the voltage ofthe vehicle OBD-ll diagnostic socket pins and the supported protocol types tohelp technicians judge the 0BD-ll diagnostic interface. If the detection resultdoes not match the actual vehicle configuration, the corresponding pin maybe faulty.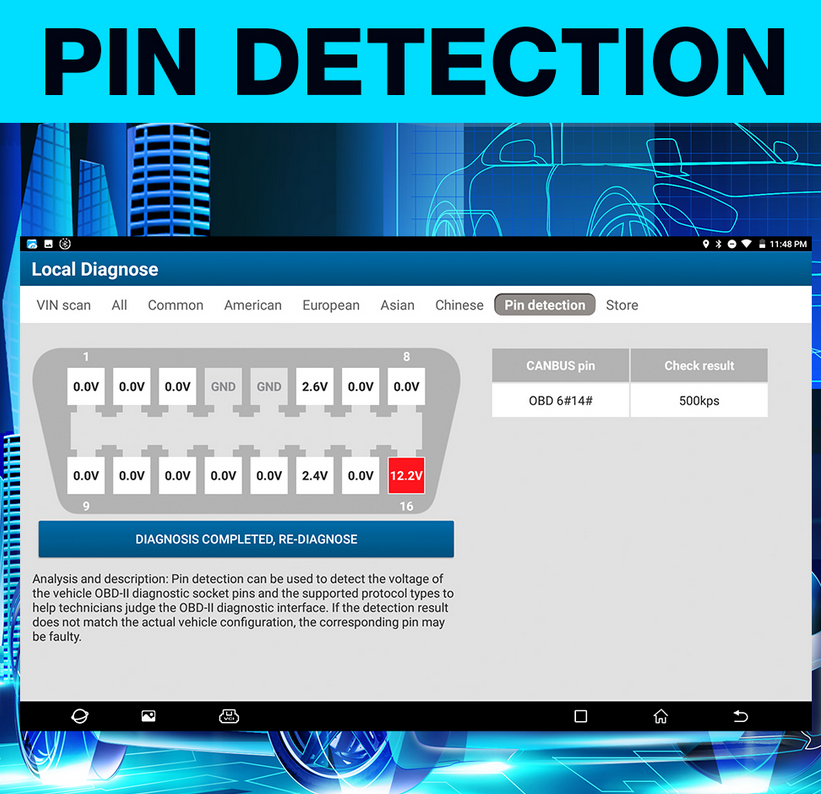 11. Intelligent Diagnose
Automatically identify VIN upon connection to the vehicle for intelligent diagnosis , also supports Local Diagnostic , it supports VIN Scan , more intelligent , no need you write the VIN manually .
12. Remote Diagnosis: Device-To-Device & Device-To-PC).
This option aims to help repair shops or technicians launch instant messagingand remote diagnosis, making the repair job getting fixed faster.
13.Global version , No IP limited , 1 year free update
Launch x431 PAD V support one key update via wifi , Update the new version of the software online quickly, such as client, firmware, diagnostic software.
Note : after the license expires, you can still use the device without being locked
14.Diagnostic history and diagnostic feedback
Generally once a vehicle diagnosis is performed, the tool will record the every details of diagnostic process. The History function provides direct access to the previously tested vehicles and users can resume from the last operation, without the necessity of starting from scratch.
for any problem found during the diagnoss, submit the vehicle issue to us for analysis and troubleshooting.
15. Extended Modules (need buy them on mall )
Support expansion module: endoscope, X-PROG and Wi-Fi printer.
More features waiting for you to discover....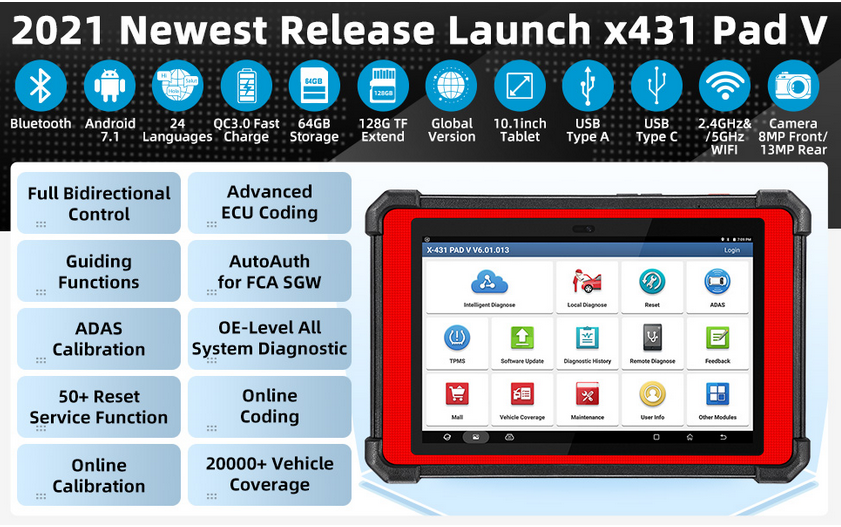 Full Bi-Directional Control ( ACTVE TEST) of LAUNCH X431 PAD V
This diagnostic tool LAUNCH X431 PAD V supports active test (Bi-directional control) to request information or command a module to perform specific tests and functions. For instance, in the case of OBD II generic information Mode 1, you can initiate a request for information from the powertrain control module, and the PCM responds by sending the information back to the scan tool for display. This LAUNCH X431 PAD V also have the ability to actuate relays, injectors, coils, or perform system tests, etc.
ECU CODING Function of LAUNCH X431 PAD V
Because every automobile actuator has a record code in ECU, which is the basis for automobile computer to mobilize their work. LAUNCH X431 PAD V is equipped with advanced ECU coding function for addressing the following issues:
1. After you change the bad actuators or certain parts, you need to use this function to make a new code and recognize the new actuators.
2. By changing the code with the ECU coding, it's easy to improve vehicle performance or stimulate high-end functions for the car.
3.ECU coding enables multiple car systems to recognize each other and then the actuators can start to work.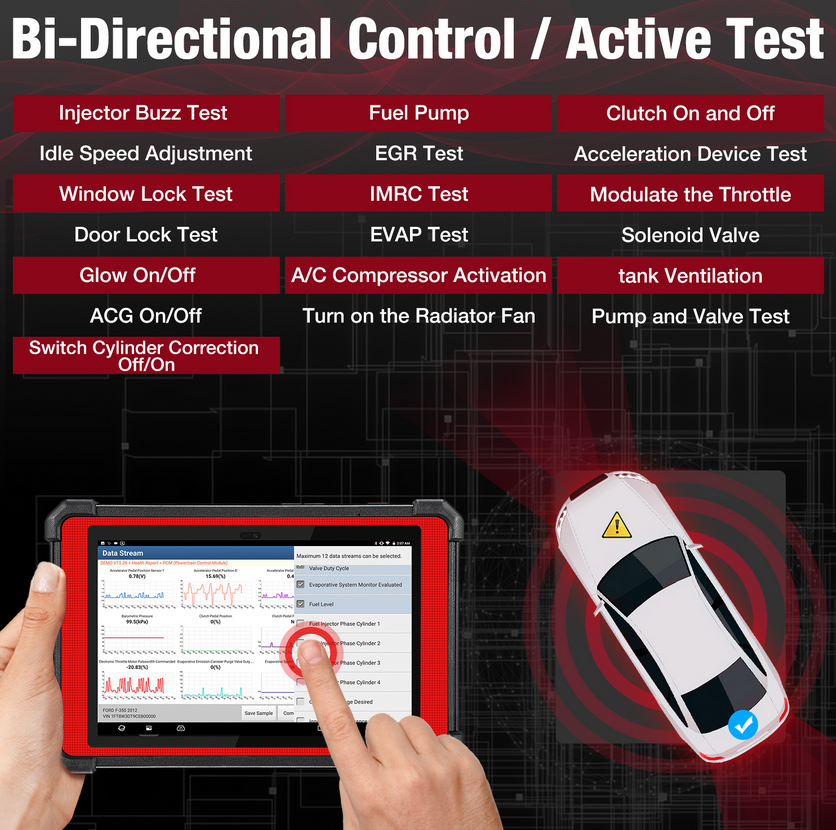 Online Programing of Launch X431 PAD V( Does not work in USA market )
X431 PAD V supports programming and coding, which is to write the relevant control information of thesoftware into the automotive computer's programmable EPROM or FLASH by making use of the electronic communication transmission technology.
This function is required only if any of the following scenarios occur:
1)A new ECU is replaced;
2) The ECU doesn't work properly;
3) The EcU is required to update the software version;
4)After the vehicle completes routine self-diagnosis (read and clear DTCs, read data streams, andactuation tests), its malfunction still exists.
Accurate ADAS Calibration functions
Advanced Driver Assistance System (ADAS) is an electronic component in a vehicle, including various safety functions of the vehicle, such as automatic emergency braking (AEB), lane departure warning (LDW),lane keeping assist, blind spot elimination, night vision camera and Adaptive lighting. (NOTE: Need to be purchased separately)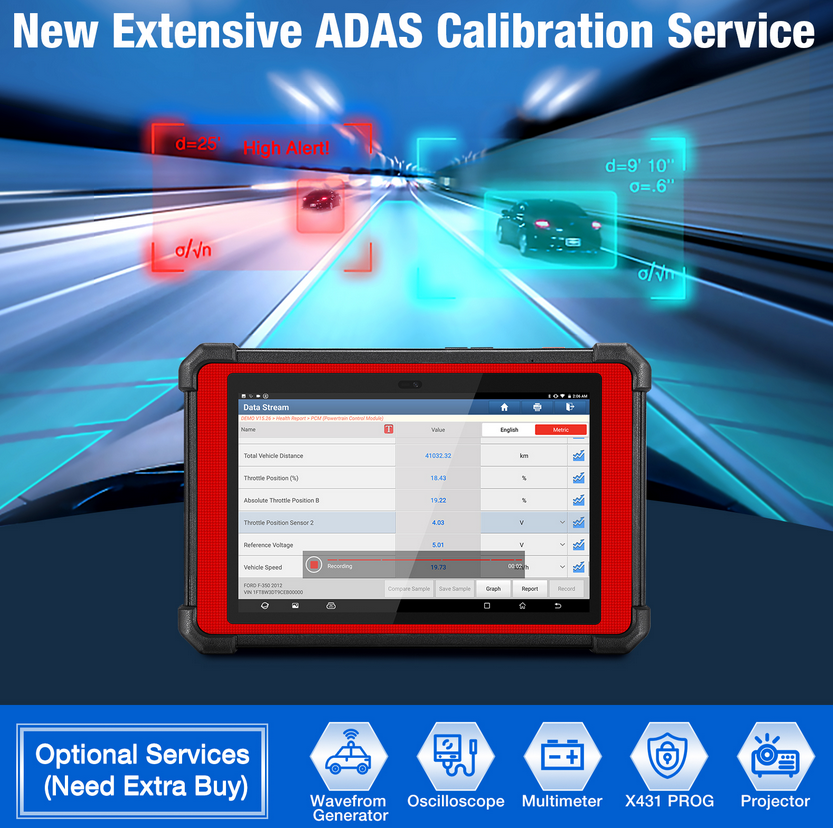 Key Programming Function
>>>>Add, Delete & Reprogram Keys, >>>Rewrite smart keys, All smart keys lost, Replace smart key ECU, Replace KNOB IGNITION;>>>>Reset Key: Relearn a key.
(Note:this key programming function is NOT universally compatible .please check compatibility with us if necessary. X431 PAD V supports PINCode reading for most cars before 2008 ,for vehicles after 2008,you need to have PINCode to do key programming
More functions and vehicle coverage is developing and waiting you to discover ........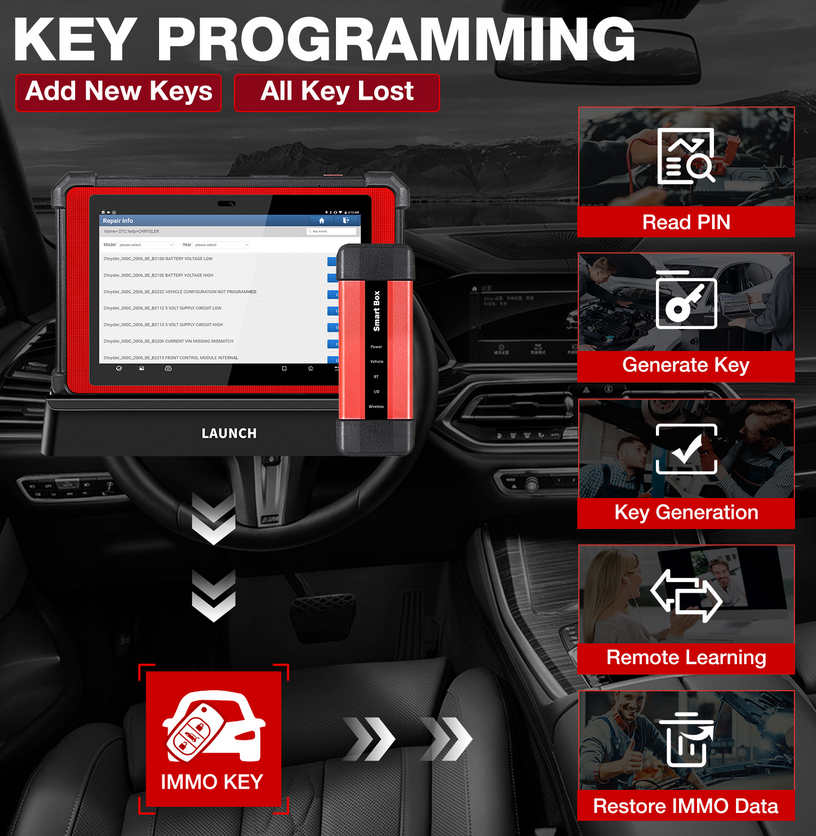 TPMS Diagnostic function
THINKTOOL Pros+/Pros can work with wireless tire pressure diagnostic tool (optional accessory) toachieve the features of TPMS activation, programming and learning.
a)Activation:to activate the sensor's IlD, wheel pressure, sensor frequency, tire temperature and battery status.
b)Programming:to program sensor data to a blank Thinkcar sensor, so as to replace a sensor that is in low battery and does not function properly. There are three sensor programming methods available:automatic, manual, and via activation replication.
c) Learning:to write the sensor ID into the vehicle ECU for sensor identification.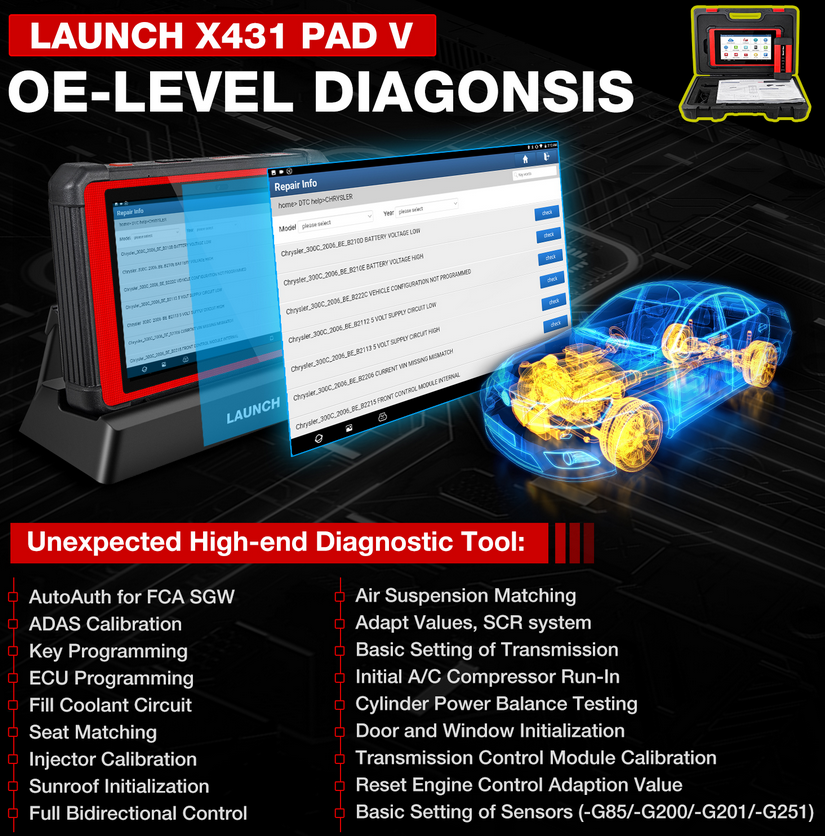 12-in-1 graphic data flow / print data / print diagnosis report / record historical data:
powerful data analysis function, not only engine system, but also ABS, SRS and gearbox. >>>Automatic generation of main system diagnosis report, for the car problem at a glance. >>>Replay the frozen frame and record the history of the car. >>>Print out the data you want
Support Extension Optional Modules ( need buy )
LAUNCH X431 PAD V supports Endoscope , Sensorbox , Multimeter , Battery Tester , Scopebox and Wifi Printer( the photo of them in the following picture is just sample , pls check the real picture in the Mall )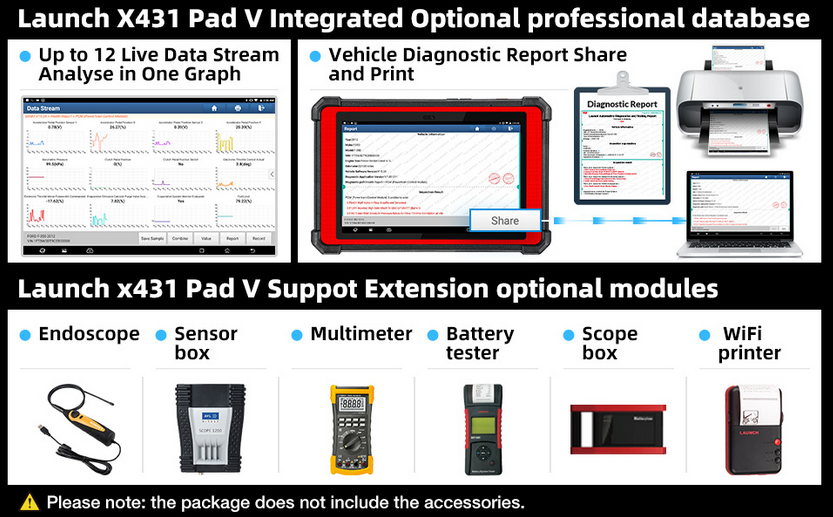 LAUNH X431 PAD V Support 31+ Kinds of Special Reset Service Functions:
(NOTE:You can find 15 kinds of commonly used reset functions in the reset menu, and other special functions in the car brand diagnostic softwares menu)
Oil Lamp,Oil Reset Service
allows you to perform reset for a new calculation of Engine Oil Life system once changed the oil.
EPB,Electronic Parking Brake Reset
is important in the maintenance of electronic braking system's safety and efficiency.
BMS,BAT,Batery Maintenance,Battery Reqister
allows the scan tool to evaluate the battery charge state, monitor the close-circuit current, register the battery replacement, and activate the rest state of the vehicle.
DPF,Diesel Particulate Filter egeneration
specially works for Diesel Particulate Filter system with DPF regeneration, DPF component replacement teach-in and DPF teach-in after replacing the engine control unit.
SAS,Steering Angle Calibration
helps clear the fault steering angle sensor memories and plays an important role in the steering angle sensor calibration.
TMPS,Tire Pressure Monitor System Reset
makes sense in displaying sensor IDs from the vehicle's ECU, inputting TPMS sensor replacement IDs and testing sensors.
Anti-theft&IMMO
it is mainly used to disable the lost vehicle keys and program a new replacement key fob.
ABS Bleeding
ABS brake bleeding to get a firm brake pad after air exhaustion.
Throttle,Electronic Throttle Position reset/learn
The throttle body is a tube containing a pivoting flat valve (butterfly) that is used to control the amount ofair entering an engine. In an electronically fuel injected car, a throttle position sensor and air flow sensorcommunicate with the computer, which supplies the corresponding amount of fuel needed at the injectors. It must need re-learning throttle sensor position after clearing or repair
Gear Learning
Leaking injectors and some dead injectors can be missed even when an injector is disabled. Otherproblems with the ignition system and mechanical components also may not show an rpm loss when aninjector is turned off
AFS Reset (Adaptive Front lighting System)
It detects the light of the environment, then decides whether to automatically turn on the headlights or not. It can also adjust the headlights in time by monitoring the driving speed and body posture of the vehicle.
SUS Reset
When the body height sensor and control module in the air suspension system are replaced or the level of the car is wrong, this function needs to be performed to level the body height sensor.
EGR Adaption
Reduce nitrogen oxides (NOx) in the exhaust gas and improve fuel economy at partial load.
more functions waiting for you to discover...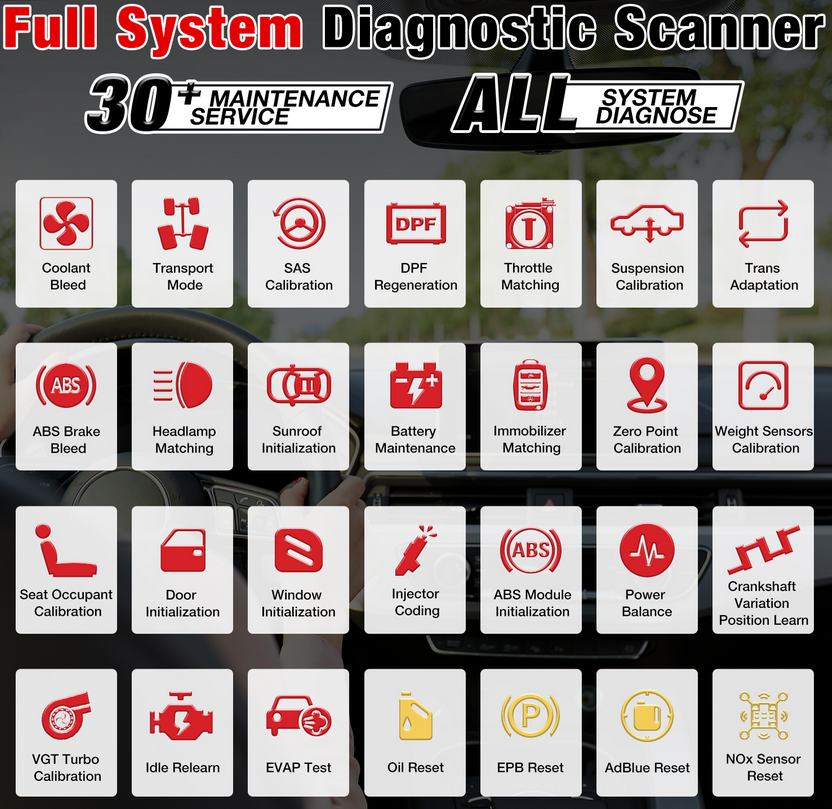 Launch X431 PAD V 5 Vehicles Supported:
Passenger vehicles:
1. Australian: AUST Holden, AUST Ford
2. Asian: Toyota/Lexus, Honda/Acura, Mazda, Subaru, Nissan/Infiniti, Mitsubishi, Hyundai, Isuzu, Daihatsu, KIA, Daewoo, Suzuki, Proton, Tata, Mahindra, Ssangyong, Perodua, Maruti
3. European: Audi, Mercedes/Maybach, BMW/MINI/Rolls Royce, VW/Bentley/Bugatti, Opel/Vauxhall, Peugeot, Citroen, Volvo, Sprinter, Renault/Dacia, Fiat/Romeo/Abarth/Lancia, Rover, Landrover, Saab, Seat, Skoda, Smart, Maserati, Ferrari, Arston Martin, Porsche, Jaguar
4. USA: USA Ford/Lincoln, GM/Buick/Cadillac/Chevrolet, Chrysler/Dodge/Jeep
5. Chinese: Changcheng(Great Wall), Geely, Qirui_TY(Cherry), Futian, Changan, Changhe, Haifei ….etc.
6. Special: Immobilizer/Key, Injector, Reset Brake Bleed, Reset TPMS, Electronic Throttle Relearn, Reset DPF, Reset SAS, Reset Oil, Reset Brake, Reset BMS

7. Others: EOBD, Demo
Heavy Duty Truck Vehicles (24V) (Need to Purchase Heavy Duty Software):
Software Coverage:
1.Nissan (Diesel)
2.Mitsubishi (Diesel)
3.USA Ford Diesel, Kenworth
4.Astra, Benz Heavy Duty, Bosch Diesel, China Heavy Duty, Cummins Heavy Duty, DAF, Delphi Diesel
5.Denso Diesel, FAW Liberation, Foton Auman, FUSO, Hino, Hyundai Heavy Duty, Isuzu Heavy Duty
6.Iveco Heavy Duty, JAC Heavy Duty, Mack , MAN , OBD Heavy Duty, Scania, Shangchai Diesel, Volvo Heavy Duty
7.WP Diesel, Airbus, Allison Transmission Box, Ashok Rejlander, Bendix ABS, Caterpillar Heavy Duty
8.Chai Heavy Vehicle, Chaoyang Diesel, Construction Machinery, CREDO Heavy Vechicle, Detroit Engine
9.Dongfeng Commercial Vehicle, Dongfeng Yufeng, Doosan Engine, Freightliner Heavy Duty Truck
10.Full Diesel Diagnosis Software, Haldex ABS Heavy Duty, HD_ABS System, HD_GoldenDragon, HD_International
11.HD_Kinglong, HD_Maxxforce, HD_Tata, HD_Western_Star, Heavy Truck Presentation Software
12.RISBUS HD, IRIZAR HD, NEOPLAN HD, Peter HD, Renault HD, SETRA HD, Stannic Bavin, Sterling HD
13.Sunlong Bus, Sunwin Bus, UD Trucks 2F Nissan Diesel, WABCO ABS, Yang Chai Engine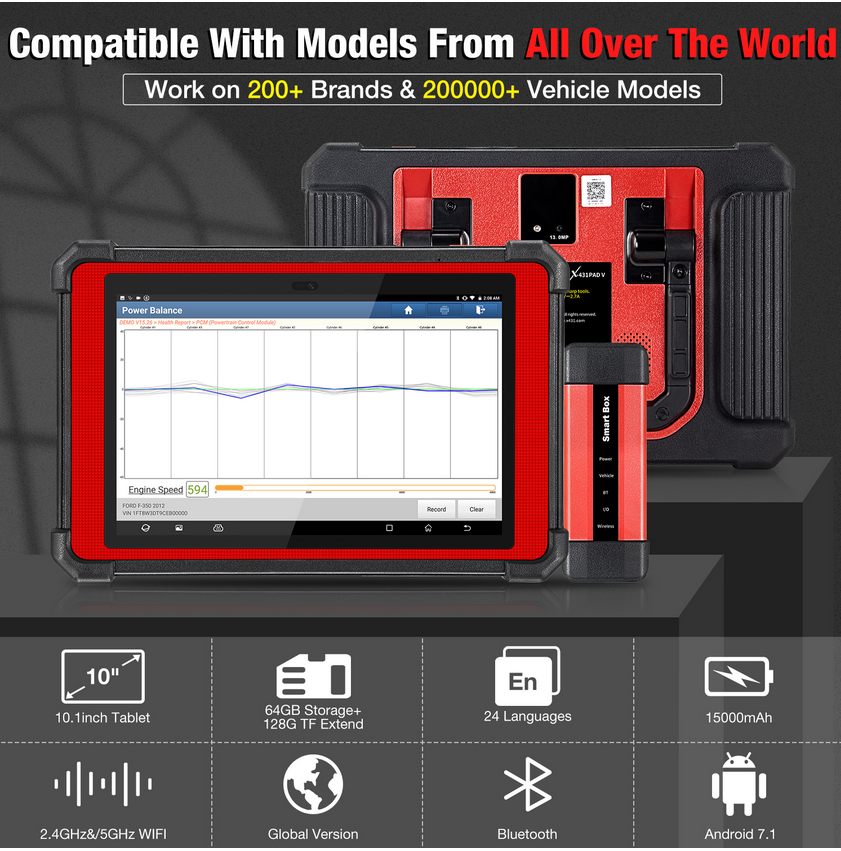 LAUNCH X431 PAD V Tablet Parameter :
Operating System: Android 9.0
CPU: 8-core Processor,2.OGHz
Battery: 7000mh, rechargeable polymer lithium battery
Extension memory card: 64G(Can up to 128GB )
Storage capacity: 4G
LCD: 10.1 inch
LCD resolution: 1920*1200
Touch screen: IPD touch screen
Cameras: 8MP front-facing camera+ 13MPrear-facing camera
Wi-Fi: 2.4G/5GHz Dual Frequency
Connectivity: Wi-Fi (802.11 blg/n/ac)/Universal serial BUS Ports (1 x Type-C +1xType-A)
Sensor: Gravity Accelerometer/3-Axis Acceleration Sensor
Working temperature: 0℃~50℃
Storage temperature: -20℃~70℃
Smartbox VCI Parameter :
Working Voltage: DC 9v ~36V
RAM: 256MB
ROM: 8GB
USB: Type Bx 1
Wi-Fi: 2.4G/5GHz Dual Frequency
Power: ≤6.6W
Working Temp.: o℃ ~ 50℃
X-431 PAD V Parameters:
Launch X431 PAD V 5 Package List:
1 x X-431 PAD V main unit
1 x X-431 PAD V charging dock
1 x Smartbox 3.0 diagnostic connector
1 x Micro USB cable
1 x Cigarette lighter cable
1 x 5V DC out power adaptor
1 x Battery clamps cable
1 x OBD II extension cable
1 x Non-16pin connector converting cabel
1 x Password envelope
1 x Non-16pin connectors set