Cummins INLINE 7 Data Link Adapter Plus Lenovo X220 Laptop with Cummins Insite 8.7 8.9 PRO Software
Lots of customer encounter setting problem when using Cummins INLINE 7 diagnosis, so we recommend this bundling sale for those customer who want once get in hand then can use it directly. We will install and activate for you ready to use. What's more, this package offer saves you money than buying.
1.
Hardware
: Cummins INLINE 7 Data Link Adapter
2.
Software
: Cummins Insite 8.7 or 8.9 PRO (Option)
3.
Update Method
: update by CDs
4.
Multi-language
: English(united states)/ Chinese(simplified)/ Danish/ Dutch/ Finnish/ French/ German/ Italian/ Japanese/ Korean/ Norwegian/ Portuguese/ Russian/ Spanish/ Swedish/ Turkish
5.
Suggest Operating System for 8.9 PRO software
: Win10 or Win11
Suggest Operating System for 8.7 PRO software:
Only Win10
6.
Connection Method:
USB
New Cummins engine diagnostic tool Cummins INLINE 7 Data Link Adapter has a faster processor, more robust algorithms, larger memory buffers and more sophisticated filtering than previous models while simultaneously accessing multiple vehicle data channels.
The Cummins INLINE 7 DataLink Adapter is designed to function with a wide array of Cummins, OEM and third-party service and information tools, including the following:
Cummins INSITE
Cummins PowerSpec
Detroit Diesel Diagnostic Link
CAT Electronic Technician (On-Highway only)
Navistar® -ServiceMaxx Fleet Pro
Volvo PTT
VCAD Elite Mack/Volvo
V-Mac Service Tools
Allison DOC® For PC Service Tool
Allison DOC® for Fleets (1000/2000/3000/4000)
Eaton ServiceRanger
Bendix ACom
WABCO Toolbox
Freightliner ServiceLink
International DLB, Intune, and IPC v2.02
International ServiceMaxx
PF-Diagnosis
and many more!
The Cummins INLINE 7 data link adapter communicates with your PC using a Universal Serial Bus (USB) through a standard USB connector
Cummins INLINE 7 Supports several other protocols:
such as J1708, J1587, ISO 15765, ISO 9141 (K and L line)
Package List 1:
1pc x Cummins INLINE 7 Data Link Adapter
1pc x DB26Pln-OBDll Cable
1pc x USB Cable
1pc x DB26/2Pin/3Pin Cable
1pc x DB26/9Pin Data Link Cable
1pc x 3Pin Connector
1pc x 3Pin Connector
1pc x Cummins Insite 8.7 PRO Software(DVD)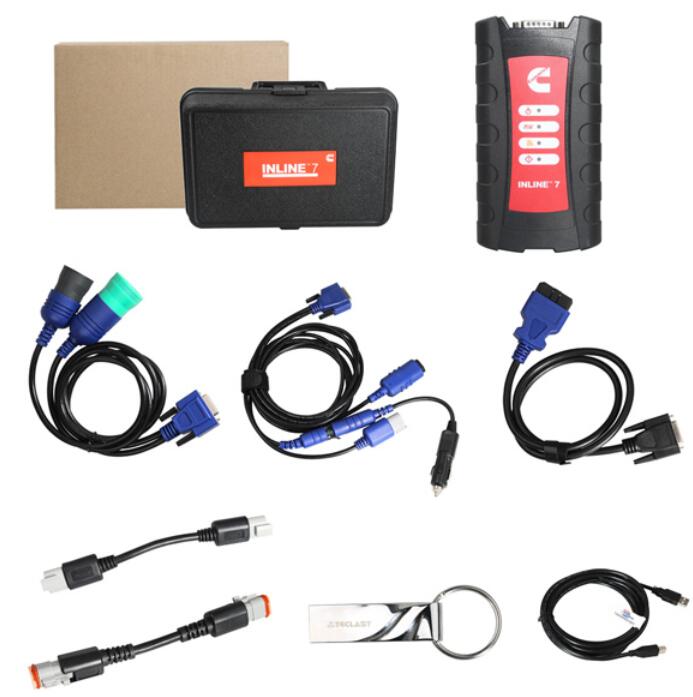 Package List 2:
1pc x Cummins INLINE 7 Data Link Adapter
1pc x DB26Pln-OBDll Cable
1pc x USB Cable
1pc x DB26/2Pin/3Pin Cable
1pc x DB26/9Pin Data Link Cable
1pc x 3Pin Connector
1pc x 3Pin Connector
1pc x Cummins Insite 8.9 PRO Software