Product Description
XTOOL Inplus IK618 Auot Key Programming Tool OBD2 Diagnostic Tools 30+ Reset Serve Bi- Directional Control
XTool IK618 Automotive All System Diagnostic Scanner is a professional auto key programmer with diagnostic functions. XTool IK618 can scan all available systems to perform diagnostics, support complete OBD2 test, perform pro-level key programming and IMMO functions, and support more than 30 special reset services.
XTOOL IK618 Best Auto Key Programmer Like X100 Elite
﹡IMMO & Key Programming
﹡Bi-Directional Control
﹡31+ Services
﹡OE Level All Systems Diagnostics
﹡Ultra Compatibility to Extend Capabilities
﹡Wider Vehicle Coverage
﹡Robust Hardware
﹡Online Support & Life Time Warranty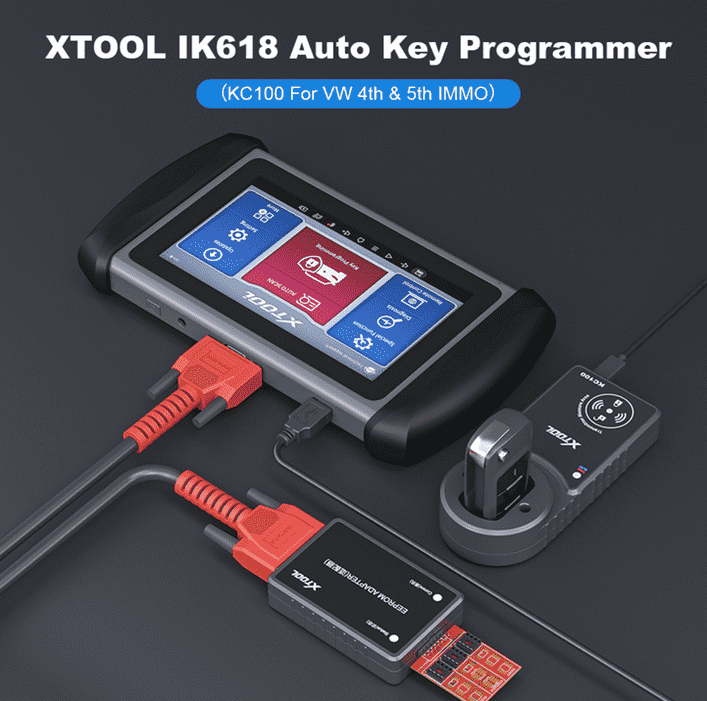 Professional IMMO & Key Programming
XTool IK618 is a professional car key programming tool that can perform pro-level key programming and IMMO functions as below:
-- Read pin
-- Add transponder/smart key/remote learning, disable lost keys, make Key Learning for BMW cars 4/3/2/1
-- Key programming for VW, for Audi, for Skoda, for seat, for Bentley, for 4th, 5th, mqb IMMO
-- Make key dealer key for Toyota & for Lexus (with KS-1 key programmer)
-- Make reseller key for Mitsubishi (with KS-2 key programmer)
-- Immo ECU reset/encode
-- IMMO data backup/restore
-- Read & write key chips
- - Read & write Mercedes infrared keys
-- Read and write EEPROM
-- Detect remote frequency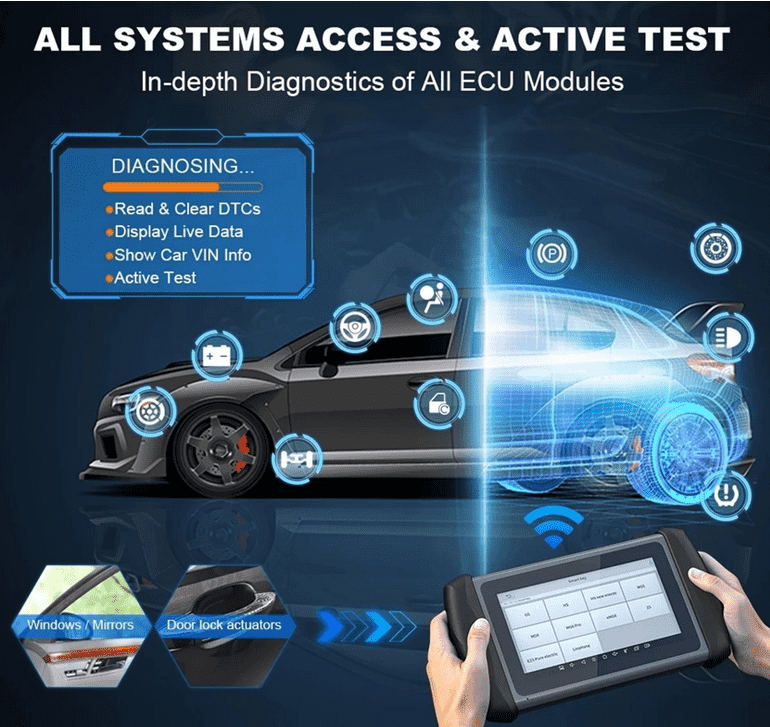 OE Level All Systems Diagnostics + Bi-Directional Control
IK618 bi-directional scan tool comes with OE level all systems diagnostic capabilities that you can only find in dealer-tool previously. It can scan all available systems to perform diagnostics including:
> Pull Codes: including manufacturer-specific codes, pending codes, permanent codes
> Clear Codes: Clear codes, reset monitors and turn off warning lights
> Live Data: Live data stream from various sensors including misfire, engine rpm, transmission fluid temperature and etc.
> Freeze Frame: Retrieve parameters when DTC is recorded for better diagnostics.
> ECU Information: Check ECU version and etc.
> Active Tests: EVAP Tests, Test injectors, cooling fan, A/C Clutch, Windows, Doors, Sunroof, ABS Motor Pump, solenoids, relays and etc.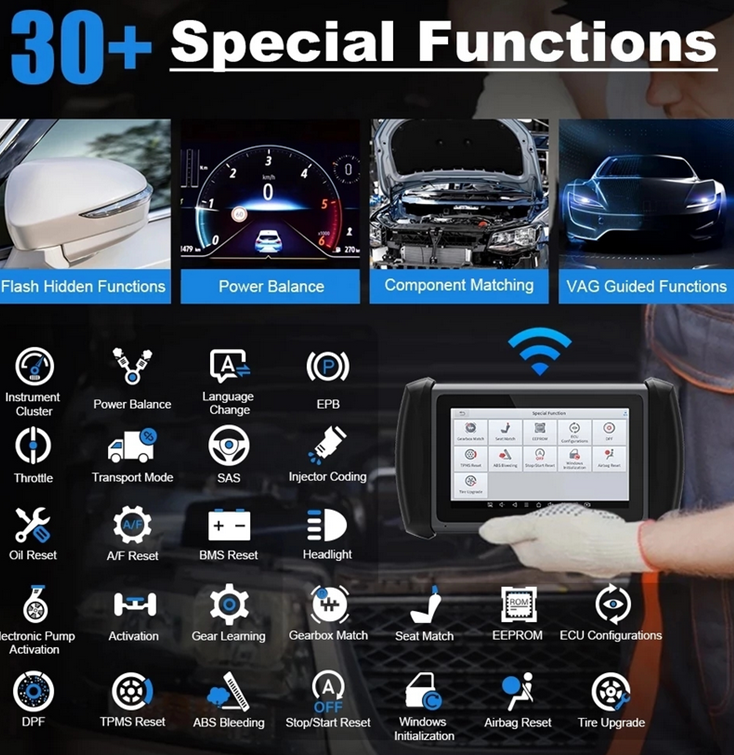 XTOOL X100 IK618 auto scan tool comes with comprehensive service options including Oil Reset, EPB, SAS, DPF, BMS, Injector Coding, IMMO Keys, ABS Bleed, Throttle Relearn, Gearbox Match, Suspension Calibration, Headlight, Window Reset, Seat Match/Configurations, Tire Refit, Crankshaft Position Variation Learn, Airbag Reset, Disable Transport Mode, Electronic Pump Activation, EEPROM Adapter and etc.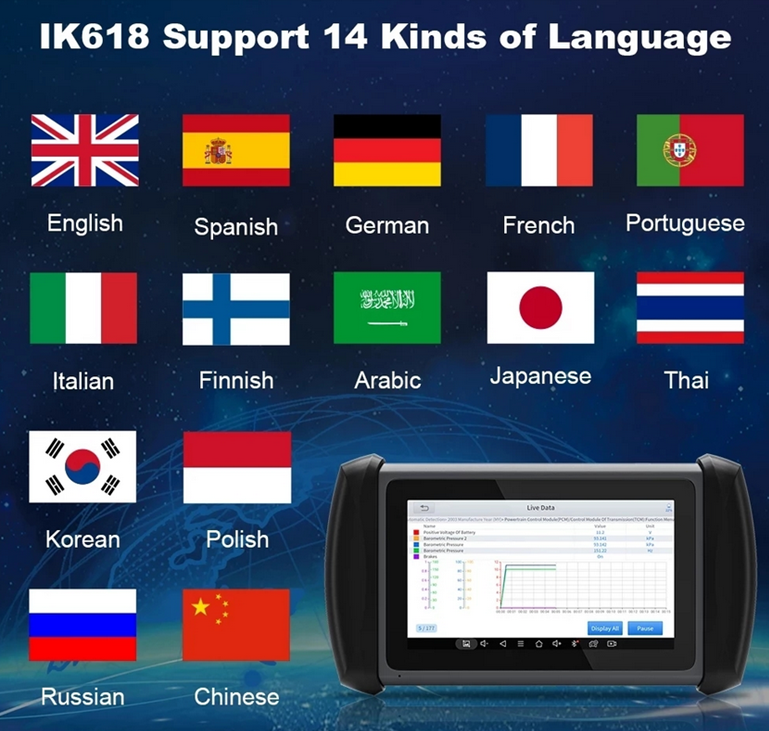 14 Kinds of Language
XTOOL IK618 supports 14 languages: English, Spanish, German, French, Portuguese, Italian, Finnish, Arabic, Japanese, Thai, Korean, Polish, Russian, Chinese
Note: If you need to modify the language, please provide the SN number to XTOOL
Live Data Stream
XTOOL IK618 display live data stream in text or graph like misfire data, engine rpm, transmission oil temperature, mass air flow sensor data, cylinder balance rates, fuel pressure, actual fuel temperature vs desired fuel temperature and etc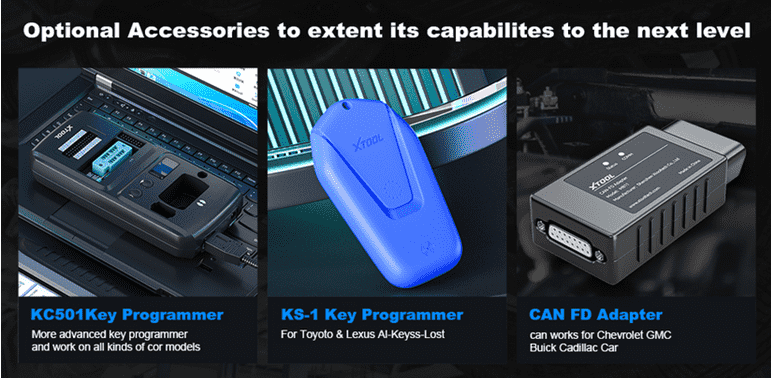 — Compatible with KC-501, KS-1, Can Fd Key Programmers
— XTOOL IK618 comes standard with KC-100 key programmer. However, you may choose to get KC-501, KS-1, KS-2 key programmers to extent its capabilities to the next level.
— It's also can works with the CAN FD adapter and M281
XTool IK618 Packing List:
P710 Tablet x1,
KC100 Programmer x1,
EEPROM Adapter x1,
Power adapter for Tablet x1,
US Standard Charger x1,
EU Standard Charger x1,
VGA to DB15 Male Main Cable x1,
OBD2-16 Connector x1,
USB3.0 Cable x1,
Mini USB to USB-C Cable x1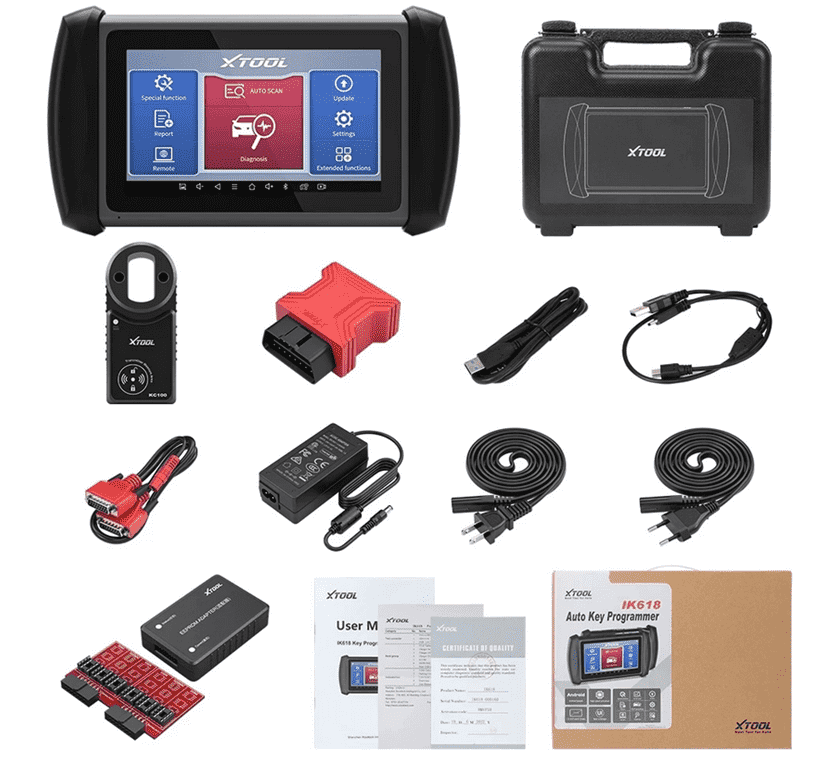 1.IK618
2.with KC501

3.with M821

4.with KS1

5.with KC501 M821
6.with KC501 KS1

7.Full Set with KC501 M821 KS1

Please feel free to contact us ,If you have any question:
Email:
Sales@obd2.ltd
Whatspp: +8613632856735

Shipping Terms:
a) Items will be sent to all the countries over the world. This package will be sent by DHL, Fedex, EMS, UPS, USPS, Singapore Post or E-Packet .
b) Items will be checked carefully before sent out.
c) We will use air bubbles to wrap the items carefully.

Shipping Time:
a) Ships within 48 hours on working days after received the payment.
b) The shipping time is about 5-7 days via DHL, UPS, 5-10 days Via Fedex, 7-10 days via EMS, 7-30 days via USPS, Singapore Post or E-Packet to Worldwide
Note: We hope it arrive on time but since this is an international delivery, shipping time will be highly depended on the courier company and local customs/duties. Thank you for your understanding.
Return Policies:
Returns will be allowed only with prior authorization, and must be made within 30 days after package delivery.
Item conditions that allow returns Brand new Item, returns must include all accessories, Items must include original packaging
Other cases are as follows:
(1) When the item is defective, the item was sent in error, damaged in transit, or otherwise defective,It can not work once you receive it. In this case we allow returns. We bear the shipping cost.
(2) When you buy the wrong item, the item doesn't fit, or you don't want the item, the item you return need to be brand new. you need bear shipping costs.

Contact Us:
Our Email sales@obd2.ltd 24 hours 7 days
And if nobody answer you online in time sometimes,do not worry.leave us a message or write down your desires,we will contact you as soon as possible.
Attention: PLZ leave your telephone number and address in detail when you take order in our website, it is very important to ship your order. (Customers from Brazil PLZ leave your Cutsom ID also, thanks!)