Autel MaxiIM IM608 PRO II Full Version Plus IMKPA Accessories with G-Box2 and APB112 Upgraded Version of Autel IM608 PRO
Autel MaxiIM IM608 PRO II (IM608S II) Full Kit includes the IM608PRO II, Plus IMKPA Accessories with G-Box2 and APB112 all together. With IMKPA and the XP400Pro, you can Read/ Write/ Erase for Mercedes Benz ESL_W209 / W906 Data, for Mercedes Benz NEC Key Learning, for BMW EWS3 Key Learning and. For Volkswagen/ AUDI/ BMW/ Benz Key Unlock.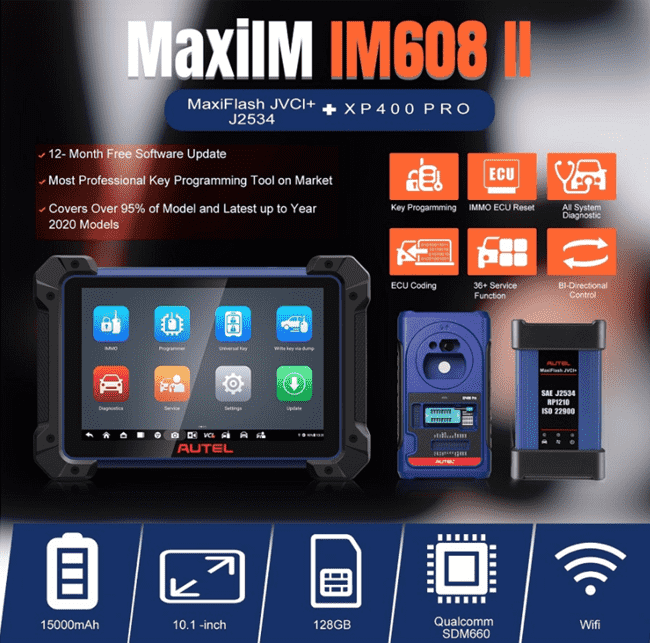 Highlights:
1. Global Version, No IP Blocking Problem.
2. Package Contains Autel IM608 PRO II and IMKPA Accessories, Autel G-Box2 and Autel APB112
3. 1 Year Free Update Online (After One Year, IM608 PRO II Software Subscription Cost 795USD/ Year)
4. Smart Mode and Expert Mode Solution In One Tool to Easy Operation
5. Works for 85% Cars In The Wordwide, Include BMW, BENZ, VW, AUDI etc. make your work simple and easier, Best Choice for Locksmith and Workshop
6. Comes with XP400 Pro Which Adds More Functionality for BMW, Mercedes-Benz, as well as EEPROM reading
7. Used with IMKPA Accessories Which Adds BMW EWS3 Key Learning, Benz NEC Key Learning and Benz ESL_W209 Read/ Write/ Erase
8. Get Autel G-Box2 Supports fast Password Calculation on Mercedes-Benz all key lost; BMW DME/DDE ISN Reading for 20 Types; Volkswagen/ Audi ECM IMMO data reading and data synchronization for 18 types.
Autel APB112: Collect the data sent from the ignition coil, identify the ignition coil troubles , 46, 4D key chip data collection and key simulation,Toyota/ Lexus smart key all key lost

Notice:
1.No Holden Software Supported.
2.J2534 MaxiFlash ECU Programmer Can't Support ECU Online Programming for Benz and BMW.It can not program ECU with IM608
3.Please Do Not Connect The XP400 PRO Programmer to Vehicles Directly, Otherwise the XP400 PRO Will Be Damaged, Have to Send Back for Repair
4.Service/ Special Functions are NOT Universally Compatible. Please send us VIN number and the functions you want to check compatibility before purchase.

The IMKPA accessories kit works with the XP400Pro and supports the following functions:
Enhanced IMMO Functions for BENZ/ BMW / Audi/ VW, etc.
Autel IMKPA is a key programming adapter kit, it can work with XP400 Pro+IM508/ IM608(Pro)/ IM608PROKPA to enhance the IMMO functions for BENZ/ BMW/ Adui/ VW, etc. Such as below:
MaxiIM Key Programming Adapter Kit, Supports Over 10 Key Unlock Types
Includes 12 Adapters APB113, APB114,APB115, APB118, APB119, APB120, APB121, APB122, APB123, APB126, APB127, APB128
Enables Read/ Write/ Erase on Mercedes Benz ESL_W209/ W906 Data
Enables Mercedes Benz OE NEC Key Learning
Enables BMW EWS3 Key Learning
Enables Volkswagen/ AUDI/ BMW/ Mercedes Benz Key Unlock

What Autel APB112 Can Do for You?
1. Smart key simulator
2. Compatible with IM608, IM508, and MX808IM
3. Compact but would need to be used with the XP400
4. Cannot be used with the XP200
5. 46, 4D data collection
6. 46 smart key password calculation
7. 46 chip simulation
8. Toyota 4D (94/ D4, 98) smart key simulation
9. Toyota H (88/ A8, A9, 39) smart key simulation
10. Collects data from the ignition coil
11. Identify ignition coil troubles
12. Decode vehicle key chip data
13. Simulate vehicle key chip (ex - 4D chip)
14. Must be used with an Autel diagnostic tool
15. Toyota/ Lexus smart key all key lost
16. Chip decoding (Hyundai 46)

What Can G-BOX2 Can Do For You?
1. Supports Mercedes Benz All Key Lost, faster calculate password
2. Supports IM608 or IM508 with XP400
3. Used for Faster Mercedes ECU data and EIS password calculation
4. Mercedes DAS3 can EIS/EZS all keys lost
5. Reduces reading time of W204 ECU data & W207 EIS by over 85%
6. No need to remove and reinsert the key for W221 & W164 after 2009 Models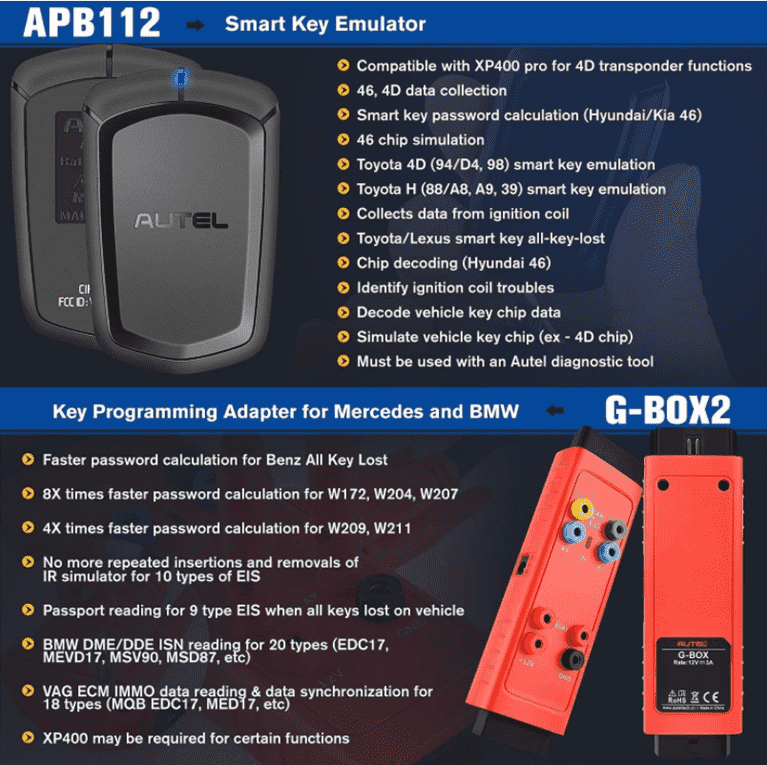 Package List:
1set x Autel IM608 Pro II
1set x IMKPA Accessories
1set x Autel G-Box2
1set x Autel APB112
Please feel free to contact us ,If you have any question:
Email:
Sales@obd2.ltd
Whatspp: +8613632856735

Shipping Terms:
a) Items will be sent to all the countries over the world. This package will be sent by DHL, Fedex, EMS, UPS, USPS, Singapore Post or E-Packet .
b) Items will be checked carefully before sent out.
c) We will use air bubbles to wrap the items carefully.

Shipping Time:
a) Ships within 48 hours on working days after received the payment.
b) The shipping time is about 5-7 days via DHL, UPS, 5-10 days Via Fedex, 7-10 days via EMS, 7-30 days via USPS, Singapore Post or E-Packet to Worldwide
Note: We hope it arrive on time but since this is an international delivery, shipping time will be highly depended on the courier company and local customs/duties. Thank you for your understanding.
Return Policies:
Returns will be allowed only with prior authorization, and must be made within 30 days after package delivery.
Item conditions that allow returns Brand new Item, returns must include all accessories, Items must include original packaging
Other cases are as follows:
(1) When the item is defective, the item was sent in error, damaged in transit, or otherwise defective,It can not work once you receive it. In this case we allow returns. We bear the shipping cost.
(2) When you buy the wrong item, the item doesn't fit, or you don't want the item, the item you return need to be brand new. you need bear shipping costs.

Contact Us:
Our Email sales@obd2.ltd 24 hours 7 days
And if nobody answer you online in time sometimes,do not worry.leave us a message or write down your desires,we will contact you as soon as possible.
Attention: PLZ leave your telephone number and address in detail when you take order in our website, it is very important to ship your order. (Customers from Brazil PLZ leave your Cutsom ID also, thanks!)