Autel Maxisys MS908S Pro MS908SP OBD2 Diagnostic Scanner MaxiFlash ECU Programming upgrade of Autel MaxiCOM MK908
MS908SP is the MS908P update version. Autel MS908S Pro can replace Maxisys MS908P. MS908S Pro comes with Autel Maxiflash Elite J2534 ECU Programming Device also. Autel MS908SP also offering 2 years free update. For more details about Maxisys MS908S Pro, welcome to contact our sales.
Description:
One of the MaxiSys series devices, the MS908S Pro Diagnostic Platform bases on the revolutionary Android multitasking operating system, utilizes the powerful Cortex A7+A15 six-core processor, and equips with 9.7-inch LED capacitive touch screen. Supporting J2534 ECU Programming Device is capable of replacing the existing software/firmware in the Electronic Control Units (ECU), programming new ECUs and fixing software-controlled drivability issues and emission issues. MS908S Pro is an ideal tool for a truly trouble-free diagnosis of a maintenance plant by quickly, efficiently and effectively diagnosing automotive faults, managing customer data, and standardizing business processes.

Top 4 Reasons to Get MS908SP MS908S PRO:
1. Software Version: Every Car Model Software Has A Different Version.
2. Wi-Fi Technology: The VCI connects wirelessly to the main unit with Long-Range Class 1 Bluetooth
3. Update:
2 Year Free Update Online, Contact our sales, you can add 1 more year free update,after 2 years,799USD/year.
4. Shipping by DHL All Around the World, 3-5 Days Delivery
Language:
English,Spanish
Difference between MS908SP and MS908P
1.Operating System:
MS908SP:
AndroidTM 4.4.2, KitKat
MS908P :
AndroidTM 4.0, Ice Cream Sandwich
2.Processor
MS908SP:
Samsung Exynos Six-core Processor (1.3GHz Quad-core ARM Cortex-A7 + 1.7GHz Dual-core ARM Cortex-A15)
MS908P :
Samsung Exynos Quad-Core Processor 1.4GHz
3.Memory
MS908SP:
2GB RAM & 64GB On-board Memory
MS908P :
2GB RAM & 32GB On-board Memory
4.Connectivity
MS908SP:
Wi-Fi (802.11 a/b/g/n/ac)
USB: 2.0
BT v.2.1 + EDR
SD Card (Support up to 32GB)
HDMI
MS908P :Ethernet:
RJ45 Ethernet Connection,
Cellular: 3G/4G
module: WCDMA
Comparison between MS908SP and other Autel Diagnose Systems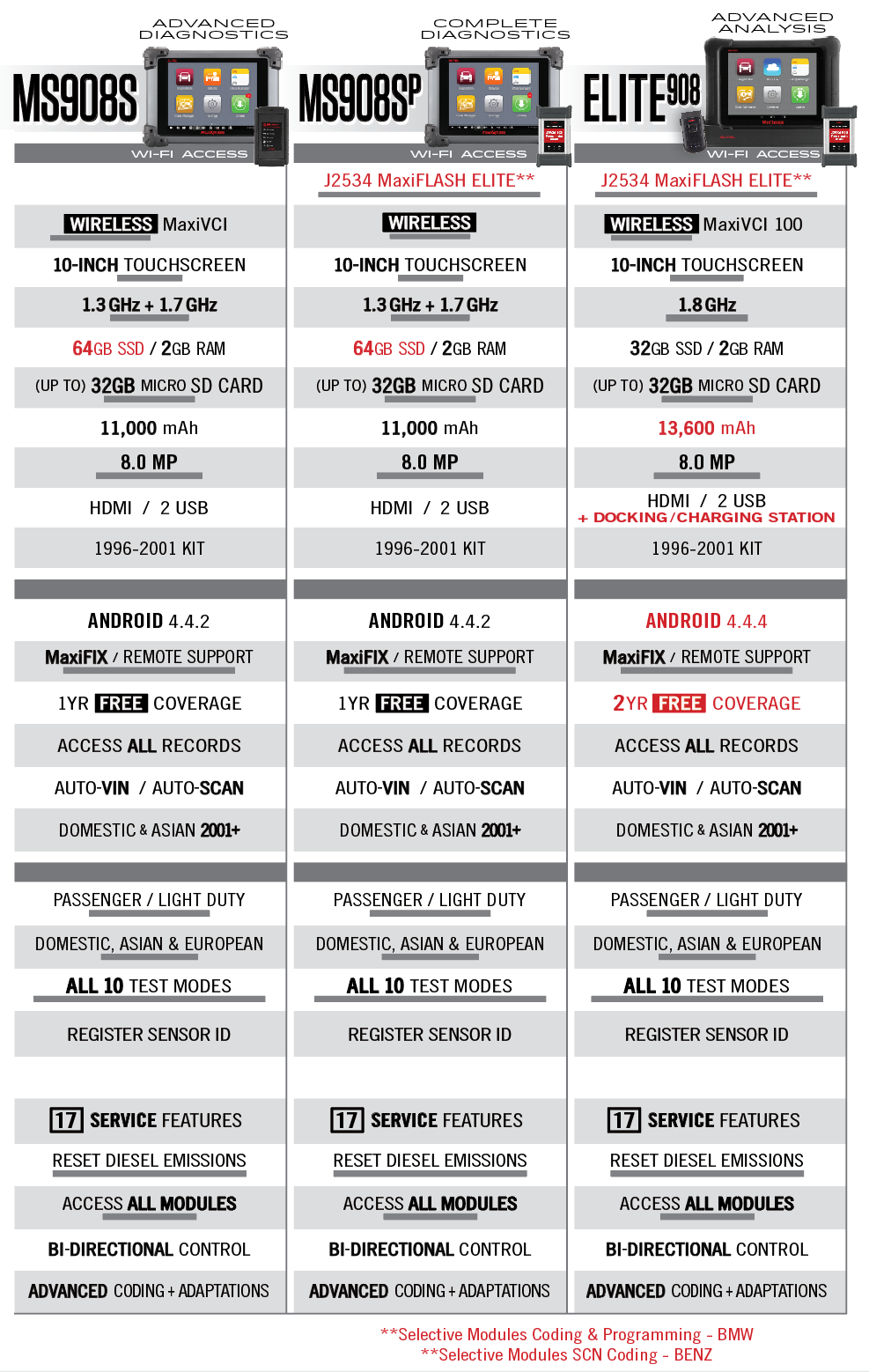 AUTEL MAXISYS MS908S Pro itself has already supported ECU programming function for BENZ and BMW cars, if you need to get support for more car models, you must use J2534 device along with OEM software to implement this function. J2534 DEVICE can not only use with AUTEL MAXISYS Pro , but also can work on other OEM software.

Using additional OEM software, the MaxiFlash Pro can be used as a Pass-Thru diagnostics tool as well, which allows users to read and clear Diagnostic Trouble Codes (DTCs) and data log PIDS, collect sensor data and log generic OBDII data etc.
LIST OF AUTOMAKERS' SERVICE WEBSITES
BMW: http://www.bmwtechinfo.com/
Mini: http://www.minitechinfo.com/
Porsche: http://www.porsche.com/
Chrysler, Jeep,Dodge: http://www.techauthority.com/
Ford, Lincoln, Mercury: http://www.motorcraft.com/
Land Rover: http://www.landrovertechinfo.com/
Volvo: http://www.volvotechinfo.com/
Cadillac, Chevrolet,Daewoo, GM, GEO,Pontiac, Buick,Saturn, SAAB, : http://www.gmtechinfo.com/
Acura, Honda: http://www.serviceexpress.honda.com/
Isuzu: http://www.isuzutechinfo.com/
Mazda: http://www.mazdaserviceinfo.com/
Mercedes: http://www.startekinfo.com/
Mitsubishi: http://www.mitsubishitechinfo.com/
Nissan: http://www.nissan-techinfo.com/
Toyota, Lexus, Scion: http://techinfo.toyota.com/
Volkswagen: http://www.erwin.volkswagen.de/erWinVW/
Audi: http://erwin.audi.de/erWinAudi/
MS908SP MS908S PRO Software Advantage:
1. Extensive vehicle coverage for more than 80 US, Asian and European vehicle makes
2. Easy and intuitive navigation makes finding what you need simple and fast
3. Open source Android Operating System for fast boot-up and multitasking
4. Displays live data in text, graph, analog and digital gauge for easy data review and analysis
5. Configures display options, sets triggers, records and playbacks results with one touch
6. Cloud-based Data Manager saves customer and vehicle records, scanner data and technician notes

MS908SP MS908S PRO Feature:
1. 9.7 inch 1,024x768 LED-backlit glossy widescreen Multi Touch display with IPS technology
2. Extraordinarily powerful Samsung Exynos Six-core Processor (1.3GHz Quad-core ARM Cortex-A7 + 1.7GHz Dual-core ARM Cortex-A15)
3. Built-in rechargeable lithium-ion battery for up to 8 hours of continuous operation
4. Dual-band (2.4 GHz & 5.0 GHz) 802.11n Wi-Fi to access your favorite web resources
5. Built-in 5-megapixel rear camera with autofocus and flashlight
6. Unique shop tough ergonomic design features strong rubber protection and housing;
7. USB, audio and auxiliary ports make it easy to connect accessories
8. Complete capabilities for codes, live data, actuation tests, adaptations, coding and ECU programming
9. Internal reliable and fast 64GB Solid State Drive for better performance.

NOTE: When reprogramming onboard, always make sure the vehicle battery is fully charged and in good working condition. During reprogramming there is a risk of having the operation failure if voltage falls below the proper operating voltage. Sometimes a failed operation can be recovered, but there is a chance that failed reprogramming could ruin the control module. We recommend connecting an external battery charger to the vehicle to ensure a successful operation.

MS908SP MS908S PRO Specification:
Operating System: AndroidTM 4.4.2, KitKat
Processor: Samsung Exynos Six-core Processor (1.3GHz Quad-core ARM Cortex-A7 + 1.7GHz Dual-core ARM Cortex-A15)
Memory: 2GB RAM & 64GB On-board Memory
Display: 9.7 inch LED capacitive touch screen with 1024x768P resolution
Connectivity: Wi-Fi (802.11 a/b/g/n/ac)
USB: 2.0 BT v.2.1 + EDR SD Card (Support up to 32GB) HDMI
Camera (rear): Rear-facing, 5.0 Mexgapixel, AF with Flashlight
Sensors: Gravity Accelerometer, Ambient Light Sensor (ALS)
Audio Input/Output: Microphone, Dual Speakers, 4-Band 3.5 mm stereotype/standard headset jack
Power and Battery: 11000 mAh 3.7 V lithium-polymer battery, Charging via 12 V vehicle power
Input Voltage: 12 V (9-24 V)
Power Consumption: 6.5 W
Operating Temperature: -10 to 55°C(14 to 131°F)
Storage Temperature: -20 to 70°C(-4 to 158°F)
Housing: Strong plastic housing with protective rubber boot
Dimensions (W x H x D): 300 mm (11.81") x 220 mm (8.66") x 50 mm (1.97")
Weight: NW: 1.42 kg (3.13 lb), MaxiSys GW: 8.655 kg (19.08 lb) / MaxiSys Pro GW: 8.052 kg (17.75 lb)

MS908SP MS908S PRO Vehicle List:
AUDI, BENZ, BMW, DACIA, EU FORD, Ford, LANDROVER, MINI, OPEL, PEUGEOT, RENAULT, SEAT, SKODA, VW, VOLVO, SMART, JAGUAR, BENZ SPRINTER, SAAB, FIAT, ABARTH, LACIA, ALFA ROMEO, VAUXHALL, MAYBACH, BENTLEY, BUGATTI, PORSCHE,GM, CHRYSLER, FORD,SUZUKI, KIA, DAWEOO, ISUZU, TOYOTA, SUBARU, SCION, NISSAN, MITSUBISHI, LEXUS, INFINITI, HYUNDAI, HONDA, ACCURA, MAZDA.
Autel MaxiSys Pro MS908SP Package List
1. Main part
Quick reference guide
Lighter Fuse
Main cable
Protective carrying case
USB Cable
User's Manual
Cigarette Lighter
Compact Disc (CD)
AC/DC External Power Adapter
Clipper Cable
Capacitive Stylus Pen
Soft Cloth
Packing List
Mini USB Cable
Ethernet Serial Cable
MaxiFlash Elite

2. Adaptor
GM/Daewoo-12 adaptor
PSA-2 adaptor
Fiat-3 adaptor
Audi-2+2 adaptor
BMW-20 adaptor
Benz-38 adaptor
Kia-20 adaptor
Mitsubishi/Hyundai-12+16 adaptor
Nissan-14 adaptor
Honda-3 adaptor
Chrysler-16 adaptor
Benz-14 adaptor (Optional)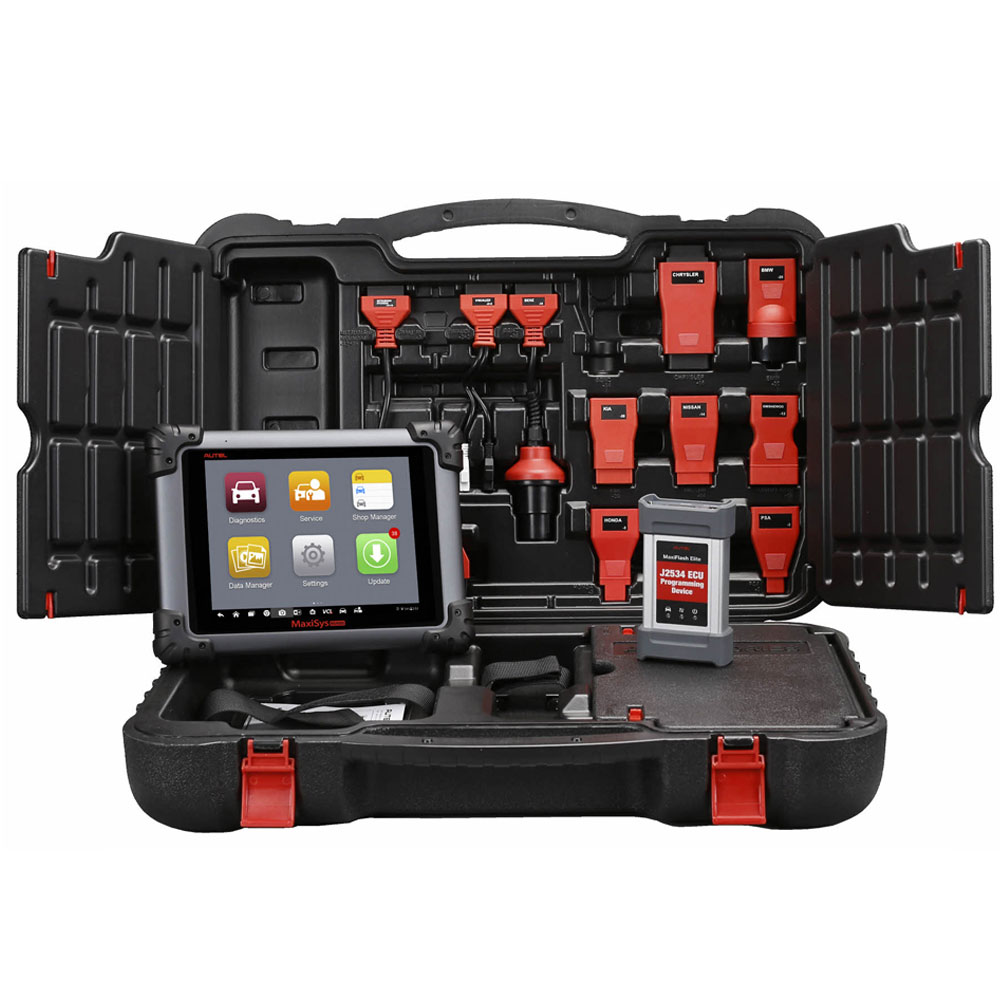 AUTEL MaxiSYS Pro MS908P FAQ:
Q1:Can I use it to do gearbox programming of the Toyota MMT and Mitsubishi?
A1:Sorry, it can not.

Q2: Can I connect the MaxiSYS Pro MS908P with my car in other way? Such as the bluetooth. Or I can only connect through the cable?
A1:The device include one Ipad with one diagnostic box. The diagnostic box communicate with the Ipad by bluetooth. But diagnostic box need to connect cars by cable or connector.

Q3: Can I use the AUTEL MaxiSYS Pro MS908P to program the ECM module?
A3: Some cars can do. Some cars can not.

Q4: What is the difference between the AUTEL MaxiSys MS908 and the AUTEL MaxiSYS Pro MS908P?
A4:AUTEL MaxiSYS Pro MS908P can do the programming function, while the MS908 can not.